STOIC, is a powerful app and service I found while browsing the Apple Gazette Kickstarter store and this one is a must-have for businesses and the individual practitioners alike. Stoic, to put it simply, allows you to convert your spreadsheet data such as Google Sheets or Excel to complete and functional applications with cloud-class databases and mobile user interfaces.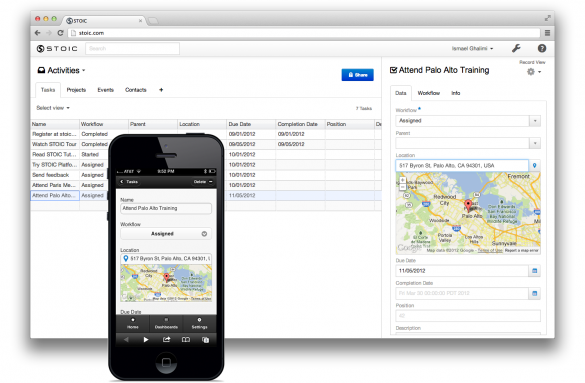 STOIC is built to work seamless with tools we use everyday like email clients and spreadsheet editors and building apps is as easy as importing existing spreadsheets or creating one from scratch with their interface. They also offer API's to be used by developers to connect apps with other CRMs and cloud based services like Facebook or Salesforce.com.
Here's a bit on STOIC in action:
The app gives users who already have a very specific idea of how they want their data structured and if you can express it easily with a spreadsheet, STOIC will then translate the data into a functional and interactive database enabling you to use your data like a CRM. Imagine a scenario where you're working with a 20 sheet spreadsheet to track sales, inventory or store and track some other type of information. Maybe you can't seem to find the perfect CRM or productivity software to help you manage your data. STOIC is excellent for easily creating and customizing your own powerful CRM, which sounds daunting but is a seamless process and doesn't require any programming knowledge. You just need to know how you want your data arranged.
Pricing
STOIC can get a bit pricey depending on the number of transactions and users you need per month and ranges from $125 per month to thousands. Its all about the power you need and scale.
STOIC is definitely for the power user who needs a level of control and power to organize data in relatable and usable formats and layouts. It enables anyone to be an app maker.
Check out STOIC in the Apple Gazette Kickstarter Store here. You'll also find lots of other cool Kickstarter mobile apps here.
Robyn-Dale Samuda is a Web Developer & is owner of Yuraki, a Website Development, IT Consultation & Online Marketing Firm in Jamaica. He has a passion for the web and helping clients achieve more online.