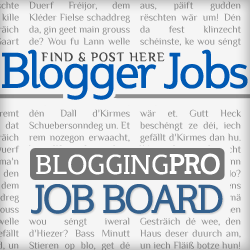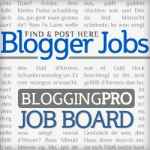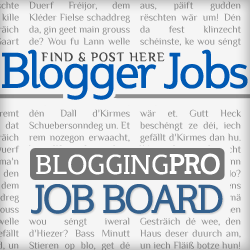 Happy Friday, folks! Here are the job board highlights from this week's listings. Good luck, and have a great weekend!
Alternative Media is looking for a talented personal finance writer who can write insightful and entertaining pieces about things like health insurance, budgeting, saving money, etc. This role would involve creating brand new articles, as well as rewriting / updating some of our existing articles.

Rolling Without Limits, a crowd-sourced blog site for individuals with mobility issues, is ready to pay you $20 per promoted post! Write about any of the site's topics with the potential to earn, but in particular they're looking for great posts to the site's category about accessible home design.
Haley Marketing Group are seeking experienced writers who can research and write engaging, relevant and timely blog posts and short articles for their clients in the staffing industry. You can work from home or your favorite coffee shop.
Paleo4Me are seeking ghost writers and bloggers on a Work-For-Hire contract basis for their International Wellness/ Food Brand. They want to provide readers with useful content (tricks/tips & useful information) on their on-line blog, regarding nutrition, health and wellness maintenance through adherence to the Paleo diet.
Write best of, favourite, easiest, hardest etc. questions (for example What are the best films starring Tom Cruise?) for an Australian Based social media oriented website. Also, write answers to other people's questions for a share of the CPM and awards.
Author: Noemi Tasarra-Twigg
Editor of Splashpress Media, writer, and geek bitten by the travel bug.