There are no absolute rules for where and how you design your blog and where you choose to place your content elements whether they are call to action buttons, subscription boxes or comment boxes. The general rule of thumb is that wherever you choose to place your content it needs to make sense for you, your message and what readers are expecting from your site; sticking to what is proven to work best.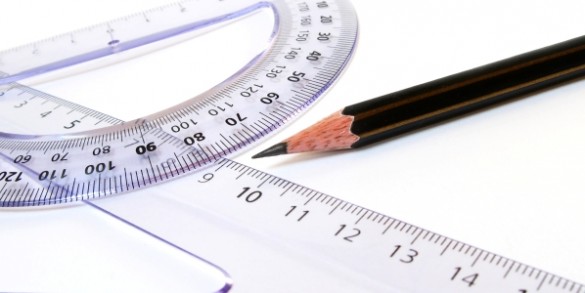 Most bloggers will have different experiences based on their audience's profile and the type of content they're producing. Regardless of that fact there are certain guidelines on how to place social share buttons and other elements designed to get some feedback from readers. Its very important to put yourself in the mind of your readers and customers, request feedback and approach your blog's design strategically versus in a random manner.
Social Sharing Icons
There are quite a few social sharing icons WordPress plugins and options available on the web for integrating Facebook, Twitter, LinkedIn and other popular social media sites on your blog. However, not all social sharing plugins are created equal and whichever you choose to install needs to offer some degree of flexibility and various options and positions for placing the share icons on your site.
Here are some guidelines:
1. Do not overcrowd your pages – Social share icons should not be placed in more than 2 positions per page. The more crowded your page with these icons, the slower your blog will respond and speeding up your blog should always be your aim. More does not equal better.
2. Ensure that they're easy to find – Be predictable with the placement of the icons. They should flow with where readers' eyes are likely to follow
3. Use an attractive design – There's no need to get into designing icons and coding them yourself. Give the Flare Social Sharing plugin a try. They have customizable and elegantly designed icons for use with any WordPress site.
Positioning
The 2 best positions for placing social share icons are at the end of the article content and / or floating beside the content. Placement at the end of the article follows the flow of how readers consume your content. Your audience reads from top to bottom and will decide whether your article is share-worthy or not once they've finished reading it. The buttons will be right there waiting for them. While the floating option ensures that the icons are always visible and available.
Here is an example of the positions most suitable in red. The Flare social share icon plugin is perfect for implementing this type of positioning with some other cool features.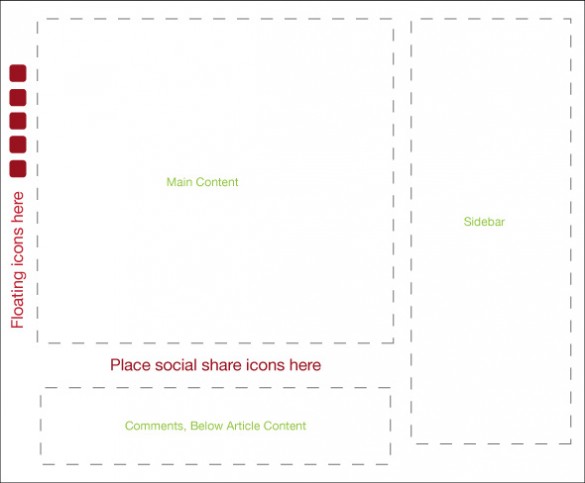 Other Elements to Consider
Anything which you decide to place on your blog to acquire some sort of action from your readers just simply needs to have certain characteristics which can be drawn from the social sharing icons stated before.
Choose noticeable and prominent positions and be moderate – The more visible specific elements are the more people will interact and share your content if that's your goal.
Keep special elements in close proximity to your main content – If you can integrate your call to action into the body of your content that is great. Users should never have to scroll beyond and yonder to your footer to find what you need them to see.
Above the fold – This is the section your readers see first when they access any page of your blog. This is the sweet spot for placing anything you need to standout, it has a 100% chance of being seen.
Don't overdo it – Simplicity is better when trying to direct your readers' attention. Try keeping your messages concise and have only 1-2 main messages per page. This is more effective in directing readers to where you want them to click and go. Don't confuse them with a crowded site.
Robyn-Dale Samuda is a Web Developer & is owner of Yuraki, a Website Development, IT Consultation & Online Marketing Firm in Jamaica. He has a passion for the web and helping clients achieve more online.