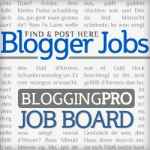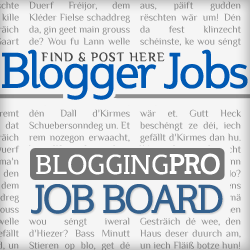 It's that time of the week again, when we can look forward to a short break. Got anything special planned?
Here are this week's job board highlights before you take off for the weekend!
A company specializing in children's formal wear like boys suits, boys tuxedos and flower girl dresses. They are looking for a blogger to write on a weekly basis. Each article will need to be around 400-500 keywords.

Lonelyleap is currently looking for creative, bright and enthusiastic Corporate Film Scriptwriters who can demonstrate their eye and skill through their portfolio to date. They are looking to forge relationships with freelance writers who have worked on a range of corporate and documentary film and have a natural flair with words, who can take direction, work to deadlines and produce various versions of scripts for consideration.
Treehouse is seeking freelance writers who can craft engaging features and lifestyle stories about the web development world and the people who live in it. They're an education platform that teaches design and development to students just starting out, those sharpening their skills and everyone in between.
The Roller Skating Association International is seeking out freelance writers willing to begin working with our organization. Article topics may vary from how to increase profits and the best way to reach specific age groups to marketing tactics and business law. They're looking for flexible and experienced writers with at least 5 years of writing experience (with portfolio examples), a sound understanding of grammar, and who aren't afraid to pick up the phone (most interviews with our members will be done by phone in the evening) and do research on a topic.
Experienced bloggers are needed, who want to write original articles on subjects such as blogging, freelancing, WordPress, web development, affiliate marketing and making money online. Articles must be of a high quality to be considered.
Author: Noemi Tasarra-Twigg
Editor of Splashpress Media, writer, and geek bitten by the travel bug.