If a majority of your readers are visiting your blog only to leave within a few seconds without ever venturing to additional pages, chances are your blog has a high bounce rate. That's not pretty. It means that your content may not be attractive, does not effectively target the right readers or something could be technically wrong with your site that is preventing readers from seeing relevant content.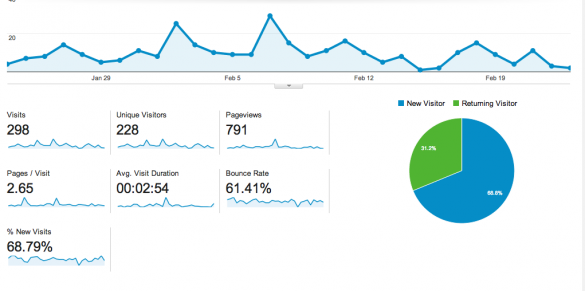 Retaining readers is the key to having profitable experiences with your blog, regardless of your niche. Therefore, whatever you're selling, you need to capture the attention of your readers. These statistics are vital for reviewing your online business model and testing different messages that work. Google Analytics is a free tool that every blogger should be using to keep track of site visitors. If you haven't yet created an account and started tracking, now's the time. Your statistics tell a very honest story of how successful your blogging tactics are.
In addition to making more engaging content, reducing site load times and encouraging discussion, there are a few useful WordPress plugins that can be installed to help create that engaging experience for users. Prompting them to click often, read and buy more of your stuff.
Here we go:
1. nrelate Flyout Plugin

The nrelate Flyout Plugin initiates a neat slide out panel at the bottom of your readers' screen prompting them to click through to more content on your blog. It's difficult to ignore as it moves in a manner that breaks the flow of the scrolling page, without being too intrusive. It captures the readers attention. Ensure your article titles are engaging enough to entice a click through though.
The plugin automatically analyzes your website to display the most related and best suited results in the fly out. The plugin is set by default to fly out at the end of the article content, presumably at the point your readers would complete reading the article.
2. Thank Me Later Plugin

Thank Me Later automatically sends your readers a customizable HTML "thank you" email once they submit a post comment. Therefore, without wasting any time, you can start engaging via email, nudging the reader to come back for more.
Use this plugin sparingly, however, since the reader did not sign up for a "newsletter" by submitting a comment. Keep the tone of the email message as a thank you note with a brief reminder to check back the site for more.
3. Comment Redirect
Comment Redirect automatically sends your first time blog readers to a page of your choice after submitting a comment. A much safer and non-intrusive method than the Thank Me Later. This page can be a highly optimized sales page, subscription page or a presentation of your most valuable content; encouraging the user to keep reading on. A very simple, yet powerful plugin to direct your readers to the content you want to push.
4. YARRP
The Yet Another Related Posts Plugin automatically displays pages and posts related to the page your users are currently reading. Your blog should not present one instance or type of content unless you're aggressively trying to convert for a specific service. Otherwise, as a reader completes an article, there should be an opportunity to read something else. YARRP takes care of this by presenting customizable related stories.
5. WPTouch Mobile Plugin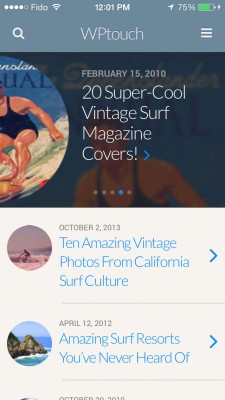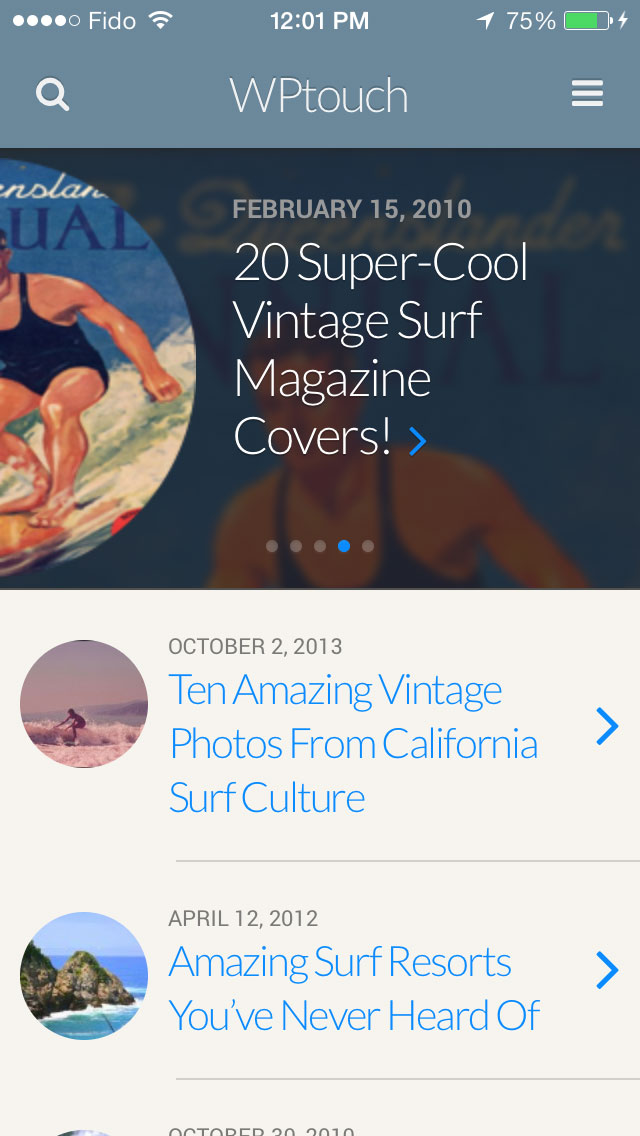 After analyzing your website statistics for your blog, you may notice that the majority of your readers who leave your pages without reading are mobile users. This could mean that your site isn't presented well on mobile devices and thus your site is ignored when accessed. The WP Touch plugin serves up a beautiful mobile version of your website to all mobile users.
As over 50% of all global internet users now access the web primarily through a mobile device, it's imperative that your site renders seamlessly for these devices. You are missing out on a great deal of traffic and potential sales by ignoring this. There's no excuse as this plugin makes it as easy as a click of a but.
6. Dreamgrow Scroll Triggered Box
This Scroll Triggered Pop-up Box plugin comes with a feature usually found in premium, paid plugins. That's a triggered pop-up that you can customize with any content you wish. The pop-up box is designed to be triggered based on certain events you specify such as percentage of the page scrolled by the user, reaching the end of a post or comment or other element.
This free plugin comes packed with lots of features giving you control over its design through predefined templates or your own HTML and CSS and other settings that can help the pop-up box to be as less intrusive as possible.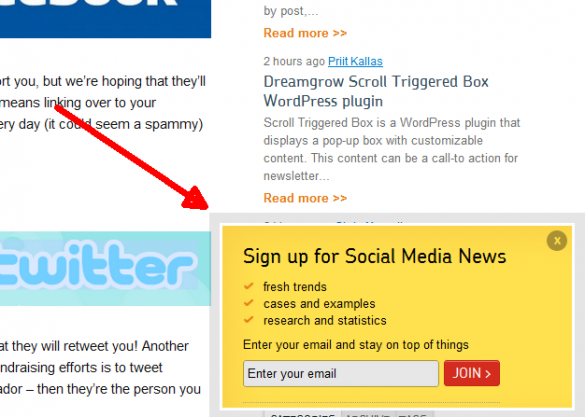 Reducing Your Bounce Rate is Easier Than You Think
Your bounce rate can drastically change by implementing just a few simple changes to your blog. Many without the use of plugins and an example of which is by simply asking or requesting input from your audience. It's time to conduct an audit of your WordPress site to determine how you can offer more to your readers and build more sustained relationships.
Robyn-Dale Samuda is a Web Developer & is owner of Yuraki, a Website Development, IT Consultation & Online Marketing Firm in Jamaica. He has a passion for the web and helping clients achieve more online.