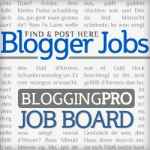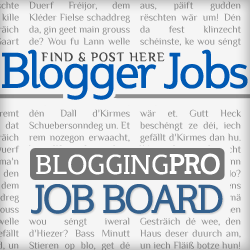 Apologies for being away last week due to Easter weekend. We're back, though, and we hope the job board highlights will give you a reason to smile today.
Good luck!
A high-end fashion brand is seeking a Freelance Product Copywriter with romance copy and SEO knowledge to join their team. The candidate will be writing romance copy for 550 product copy pieces. All the descriptions, images and specific information about the items will be provided.

The Advocate Newspapers is seeking a sports reporter for our weekly local newspapers. The ideal candidate will have at least one year of experience covering college and/or high school sports news, game stories, and or features.
A D.C.-area media company is looking for warfare gaming bloggers. Applicants should be versatile writers who can write consistent weekly articles pertaining to the historic and military aspect of console gaming.
Strategy Magazine is looking for an energetic human being with a knack for journalism and a verve for writing to join the publication as a freelance writer. The publication is the how-to resource for everyday living, touching on everything from personal finance and organization, to technology and wellness.
87studios is looking for writer who will review premium WordPress themes. They will provide all required files and test area.
Author: Noemi Tasarra-Twigg
Editor of Splashpress Media, writer, and geek bitten by the travel bug.