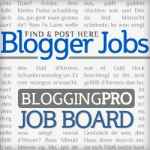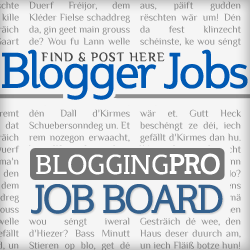 Who needs more jobs as we start a new month? Here are the week's job board highlights, which I hope can help you find more jobs to work on.
Have a good weekend!
Sovereign Media, a D.C.-area publishing company is looking for warfare gaming bloggers. Applicants should be versatile writers who can write consistent weekly articles pertaining to the historic and military aspect of console gaming.

Masthead Media, a company that creates magazine-quality content for brands, is seeking a dedicated social media manager to join their team for an ongoing freelance position.
The manager will oversee social media posting, engagement, and analytics reporting for a major travel lifestyle brand, and will report to Masthead Media's managing partners. The job will require a 10 to 15 hour per week commitment, which will include daily monitoring and responding to followers via the brand's social media feeds.
Celebrity fashion website, RedCarpet-FashionAwards.com is looking for freelance writers to help cover the Met Gala on May 5. You must have experience at blogging live events.
Bikini.com is currently seeking freelance writers to cover the following topics: Style, Beauty, Travel, Health, Fitness, Dating, and Events. Bikini.com is a lifestyle destination encompassing exotic travel, health and fitness, and swimwear culture.
BackboneMedia.com is a content marketing service provider for B2B technology companies. One of their clients has a need for a MySQL DBA technical writer and/or blogger. The pay will be $200 per 300 word post and the volume is 1 to 3 blog posts per week.
Author: Noemi Tasarra-Twigg
Editor of Splashpress Media, writer, and geek bitten by the travel bug.