So you've acted on your vision and goals and launched your WordPress blog. Your creative juices are flowing, you're publishing like a mad man, or mad woman, you're sharing and connecting on social networks and making a name for yourself online. Great job, you're on your way to the top! You've found a formula you can trust to help grow your online business, creating a solid online reputation and walking through the doors of success – all from the comfort of your home or office. No need to face anyone; you can just sit there in your pajamas and do your thing.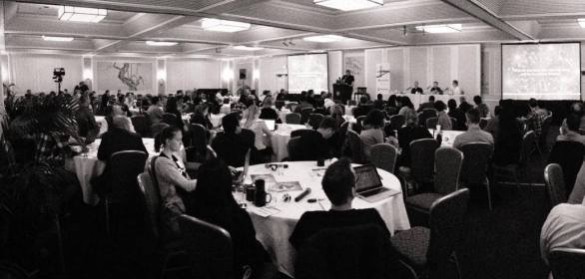 This is all amazing and WordPress is definitely a publishing platform with the greatest impact on individualizing online publishing and is driving the revolution of content marketing. Alternatively, I'm sure you've noticed that success online is becoming much more difficult, yet thankfully at the same time, no less rare.
Your online marketing efforts will yield results with persistent execution and great content but that's not going to be enough if you're trying to build an empire, a business capable of eventually hiring a team and sustainable growth in the long-term.
You will need to get creative and in some sense, go back to the basics.
That Uncomfortable Thing is What You Need to Do
Without too much suspense, I'll go straight into what I think every WordPress blogger should be doing to up their game. Something that the small players overlook and are often too lazy to take seriously – Good old fashioned face to face networking. Leaving your home, town or state to show your face at the next big conference will present opportunities and link you with people you never could imagine online.
What about the convenience of making money online without getting out of bed? Isn't that the dream? I've asked those same questions but upon watching the best and brightest in the online marketing world, I realized that they're always networking and speaking at various events throughout the years. Large spotlight events that attract profiles from around the globe. Watching great marketers like Gary Vaynerchuk, Neil Patel and Jonathan Perelman of Buzzfeed, you'll notice that they're always talking, always putting themselves out there, being vulnerable, making their voices heard. This helps to set them apart and launch their businesses and profiles even further and is part of their marketing foundation.
Networking is what's missing from your blogging business strategy.
Nothing beats physical connections
Regardless of the pace at which social media advances, physical, memorable interactions and connections always trump digital. It presents you a better opportunity to make a great impression, make a mark and create lasting relationships. Building relationships is what it's all about when building and marketing your blog or any other business. Relationship building is the key to selling, whether your product is content, technical or consultation.
We've spent too much time taking digital connections for granted.
Discovering the Right Opportunities for Networking
If you frequently read Techcrunch, Mashable or any other reputable tech news sites, you should have a fairly good idea of the type of conferences, meet-ups and other networking events and opportunities out there. Or, it's as simple as doing a search in Google.
As a followup to my recent article on the benefits of building forums within WordPress blogs, Viglink for example, (a powerhouse tool for driving income for content publishers), is hosting for the second year, ForumCon. ForumCon is the leading conference dedicated to discussing, collaborating and sharing ideas for building forums and communities as a business. It's packed with a wealth of information from key players in the industry with track records of running some of the most popular and profitable forums on the web. This is the event to attend if you're planning to launch an online forum.
The great thing  about an event like ForumCon is that you'll be directly exposed to key personalities from companies like Google, Zynga, CNET and Adobe to name a few. Opportunities to leave a mark on people you'll never reach or meet in the digital realm. These are the contacts you need to be making and this is where you learn and acquire skills the average blogger does not possess.
If events like ForumCon are a bit intimidating for you, then give WordCamp a try. Wordcamp is more casual and community based and is geared towards absolutely everything related to the development and business of WordPress. A great starting point for getting accustomed to attending events for networking.
How Will Networking Make You a Better Blogger & Business Person
Here are some strong reasons you need to start seriously networking; and when the opportunities arise, speak at high profile events:
More ideas to publish – You'll have deeper insight of your industry and will be learning directly from the best as they make their presentations and divulge their unique experiences. Content like this you will not find online and you won't leave the same way to went.
Money making opportunities – Opportunities to connect directly with other business decision makers and even investors. The most effective medium for closing deals and making connections is to get face to face and personal.
Greater ROI on networking – The direct connection to a large room full of like-minded and focused business people is going to yield you more results than running an ad or trying to contact random people on social media.
Benefit from the cutting edge – New insight, products, trend data and analysis are rich and flowing at these events.
Collaboration opportunities – Strike a deal with other attendees and collaborate on a project that could benefit you both. A powerful way to get your new project off the ground.
Essentially, you have to get out of your shell to experience serious growth for you online business. Networking is a powerful way to leverage other professional bloggers and business people's experiences, connections and insights to lead the way for your own success.
It's time to start thinking bigger than the average blogger.
Robyn-Dale Samuda is a Web Developer & is owner of Yuraki, a Website Development, IT Consultation & Online Marketing Firm in Jamaica. He has a passion for the web and helping clients achieve more online.