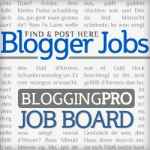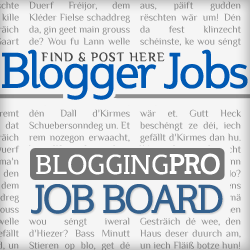 Good morning, folks!
Here are the job board highlights for this week. Have a lovely weekend.
GoodBlogs are a soon-to-be-launched crowdsourced blogging platform and are looking for multiple freelance bloggers. They are looking for bloggers to contribute articles and posts under various topics.

Pixel Chefs are a small firm in Orlando, FL and are currently looking for someone to help with their copy. They are in the process of expanding their site (40 + pages) and have clients accounts that need blogs in different fields (doctors, engineering, technology etc.). Also hoping to have a blog or two written monthly on their blog site for marketing and providing info to small businesses and to lead to their service pages.
Scripted is currently seeking professionals from all fields to join their writing teams. Their registration process is quick and simple. Upon receiving approval, you'll have access to jobs of various formats – including blog posts, white papers, and social media posts – from small and enterprise clients alike.
TripleCurve are recruiting high-quality writers to join their ongoing engagement for 2014. For this project, their writers create informative and engaging articles in the categories of entertainment, health, lifestyle, food and drink, sports, technology, and money. (Ex. 10 Celebrities Who Are Also Music Artists) The writer is given notes on different list item areas to research and then writes short descriptions for each list item title. Each title requires a list ranging from 6 to 13 items, with a minimum of 2 to 4 sentences per list item.
Author: Noemi Tasarra-Twigg
Editor of Splashpress Media, writer, and geek bitten by the travel bug.