Anything that pops up on the web is sure to attract attention regardless of its content. But one can be more enticed to read through the content if the pop up box appears on a site you really intend to visit.
Bloggers and publishers can do this via their WordPress site particularly through the widgetized welcome popup plugin. This tool allows a popup window to show automatically when a person visits your site.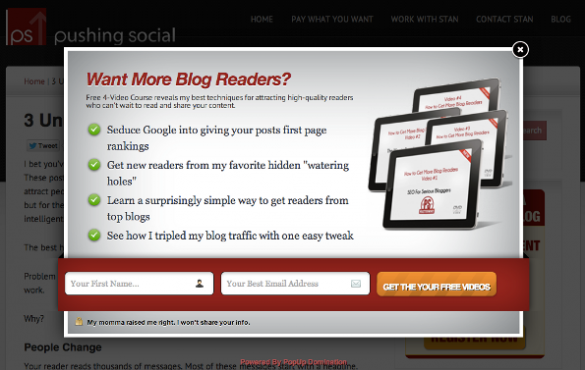 About the Welcome Popup
The welcome popup window has many uses. It can be utilized to introduce your business or your expertise. You can use it to notify visitors about an interesting development in your business, an upcoming event or a new product. Additionally, you can use it to include a call to action or an opt-in form for your visitors.
It is also possible to edit the content using the WYSIWYG editor and shortcodes are allowed. In addition, you can set the frequency of showing it on your blog or website such as once per visit, once fore very few days or every time.
Customization of the popup window is another great advantage. This means you can adjust the window size, overlay colors, font scheme color, background image, number of widget areas, autoclose time and content. The CSS can also be edited.
How to Install the Plugin
To use this plugin in your WordPress site, you need to follow some simple and straightforward steps. Just install and activate it. Once it is activated, a menu item entitled Welcome Popup will show under the Settings section.
Click the menu Settings and Welcome Popup and choose your preferred display mode, color, size, autoclose time, number of widget areas among others.
You can then proceed with selecting the pages where you want the welcome popup to display. Choose between the "homepage and particular posts/pages" or "particular posts/pages" display mode. To assign a particular post or page, just go to the post/page editor and set the welcome popup checkbox.
If you want to add widgets in the welcome popup, you can do so by going to the Appearance section on the left column then go to Widgets. On the widgets page, drag and drop your chosen widgets into the welcome popup area.
There's a wealth of plugins available today including the WordPress video plugin that are sure to make your blog or website more interactive. Using them is a great way to drive traffic moving forward.