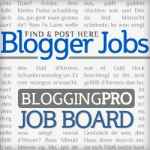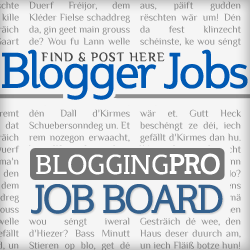 Good morning! Here are the job board highlights to help you get off to a good start.
Elegant Themes are looking for a professional writer with Web Design and WordPress experience to create high quality resources and tutorials on their blog. Your posts would be WordPress and Web Design related, so you would need to have years of experience in this field. Someone who has been, or is currently a freelance web developer would be perfect for this position. Creating resources for their community will often require coding experience.

The FP Group Business Department is seeking experienced freelance writers in Washington, DC to produce sponsored content for their custom publishing division. This division, which is separate from FP's editorial staff, is responsible for working with external clients to develop unique, innovative sponsored reports on a variety of topics. The sponsored reports will be published on ForeignPolicy.com and in Foreign Policy magazine.
An individual needs a pro blogger to drive interest to his gofundme campaign.
A client specializes in baby products and is looking for a freelance Naming Copywriter to assist their team on a project starting the end of this week (7/28) or the beginning of next week (8/4).
You will be working OFFSITE and will be helping them name a new set of baby clothes and other products.
Red Tricycle is seeking a part-time temporary New York editor who will assume full responsibility for local content. The ideal city editor will be an adventurer at heart with a passion for exploring the NY Metro Area with his/her kid(s). They're looking for someone who knows what makes each neighborhood unique and cool, lives in Manhattan, Brooklyn or Queens, and can easily adapt to the Red Tricycle brand and editorial voice.
p
Author: Noemi Tasarra-Twigg
Editor of Splashpress Media, writer, and geek bitten by the travel bug.