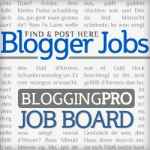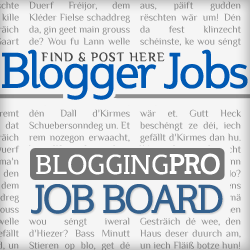 So it's the start of a new week! I hope you all have a lot on your plate, but here are more jobs from the job board highlights to look at.
Good luck!
WANTED: A skilled copywriter with a lively, witty voice and a proven track record in brand positioning.
for a creative agency in Venice looking for an exceptional copywriter to come up with a unique voice for an organic, fun kids' drink targeted at children 8-10 yrs old and their parents.

A fast-growing education news site is looking for an editor who can assign and edit stories for iSchoolGuide as well as manage the homepage. iSchoolGuide is an essential voice for readers who are passionate about public education.
Looking for a blogger to write weekly for the blog on the website DIY Genius (http://www.diygenius.com). The topics would include stuff like digital media skills, self-education, learning on mobile devices, meditation, mindfulness, focus, productivity, personal branding, professional networking, MOOCs, online learning resources, etc.
MStars News Buzz Writers needed in the realms of Sports, TV/Film, Fashion/Beauty and/or lifestyle. Need an amazing sense of staying ahead of the curve on the latest celebrity news and being among the first to break it. Writers must be capable of catching hot topics and write numerous articles, meeting deadlines and goals.
Are you passionate about writing? Are you interested the economy, financial markets, and stocks? Do you have the ability to write engaging copy about world and national events and how they impact the financial markets? Can you connect with an audience of older investors, including retirees? This job's for you then!
Author: Noemi Tasarra-Twigg
Editor of Splashpress Media, writer, and geek bitten by the travel bug.