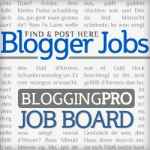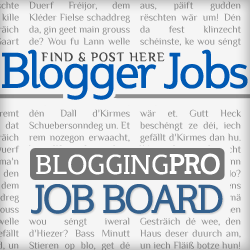 Good morning! I hope you all had a good weekend.
Here are the job board highlights to start the week on a great note. Good luck!
QuickShouts is an online marketplace that connects advertisers with social media influencers and bloggers for sponsored posting opportunities. They are currently looking for high quality bloggers to write sponsored posts regarding a range of different topics related to their advertising partners. All bloggers are welcome to apply, however they prefer those that have an Alexa ranking of below 500,000.

JapanDiscovery.com is looking for an experienced blogger who can write about Japanese news and culture topics for a temporary 3-4 month contract.
Compy's product is currently launching (it is an organic waste odour absorber), and the need help creating some rad content for the blog to promote composting, the environment, and all the rest of that good sustainable stuff. They have ideas for posts, but they are also open to your ideas and what interests you. Check out the website: www.compythat.com.
Seeking a creative blogger to create content for a fashion and lifestyle brand. They have many story ideas already and are open to hearing any ideas you have. At first they would like to have around one blog post/story per week. These may be about specific designers, events, locations, ideas, art, music, travel…
Rediscover New England, a newly-formed history magazine, seeks experienced freelance writers for regular contribution. They are currently seeking content specific to the Seacoast Region of New Hampshire.
Author: Noemi Tasarra-Twigg
Editor of Splashpress Media, writer, and geek bitten by the travel bug.