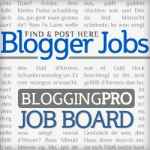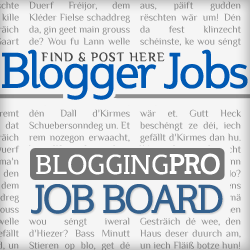 Who's looking forward to September? Before we get there, though, let's make this week a great one, shall we?
Here are the job board highlights for you to start the week.
The world's largest millionaire dating site is looking for freelance writers to work with them on writing high quality articles, and publishing them on websites as well.
Responsibilities include:
– Write articles (based on related topics we give you) and link back to their site.
– After you finish, send your articles.
– Publish it on a website.

Socialnewsdaily.com is looking for an experienced blogger in the niche of social media news.
They are looking for someone who can write 2-3 evergreen pieces of content (eg list posts or opinion pieces) based on currently social trending stories.
Voice Media Group, which publishes print newspapers and websites in eleven metro markets, continues to look for journalists who have a sophisticated understanding of food and the skill to write about it in an engaging way.
Is "Strunk & White" one of your favorite books?
About You
You may be a bit obsessive compulsive.
You know how to polish a writer's text and make it succinct and clear.
You know where to add a hyphen.
About the Job
You'll receive blog posts, web copy, marketing e-mails, long-form white papers and case studies.
Your job is to whip the writers' text into shape — clear, well-organized, concise, punchy, and also make sure that spelling is correct for a human reader not just a computer spellchecker.
Looking for a ghost writer with a great writing style and proven WordPress knowledge. Many of the articles that that need to be written are WordPress Theme, plugin and product Reviews.
Resources
Author: Noemi Tasarra-Twigg
Editor of Splashpress Media, writer, and geek bitten by the travel bug.