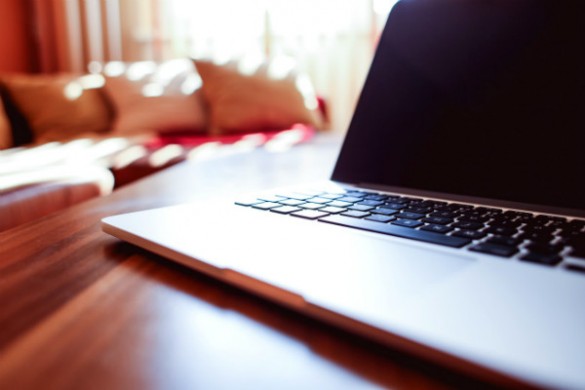 If you aren't taking advantage of Twitter to find guest blogging opportunities, youre missing out. Twitter is a great way to find and make connections with publishing influencers in all kinds of industries.
Recognize the Power of Social Search
Twitter offers its users more chances to connect with people they dont personally know or share mutual friends with, making it a great platform for locating new guest blogging opportunities. Twitter also offers highly effective, yet simple, search features that can help you connect with the right people.
Additionally, a social search tool like Topsy allows you to search for terms like "guest bloggers,""looking for writers,""write for us,""guest post" and other variations. The results show you who has recently tweeted about seeking guest bloggers, or sites that have recently hosted guest posts and presumably would be open to the idea of hosting more.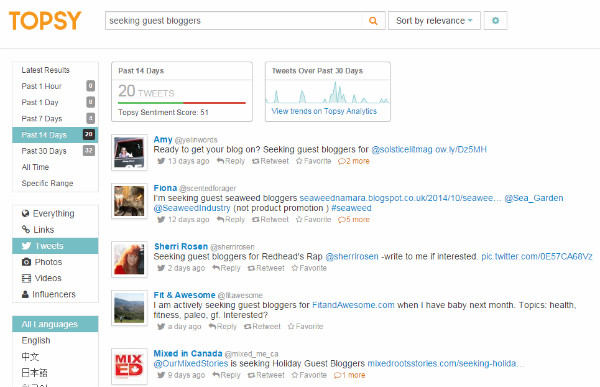 From there, you can tweet back at them or contact them via their website. Take some time to get to know their site before you reach out. Consider whether or not you would be a good fit, and get a feel for the style of the other posts.
Topsy used in combination with powerful search operators can define your searches and yield fruitful results.
Flatter Your Targets with Twitter Lists
Everyone appreciates a little flattery. Create public Twitter lists of your mid- to high-level targets, naming your lists something like "my favorite [insert your industry here] blogs" or "must-read [insert your industry here] blogs." For example, I gathered together some of my favorite design blogs into this list. And it's not just because I dream of writing for them someday – it also just makes it super easy to stay on top of my interests and news in the graphic design world!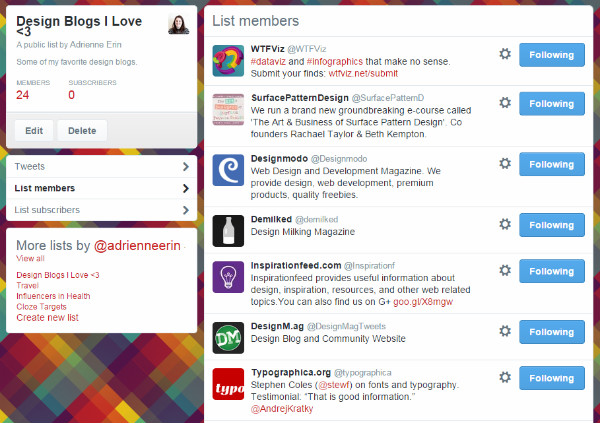 Make sure the list is public so that everyone you add will get a Twitter notification when you do so. It's a compliment to be added to a list like this. Your targets will likely remember you after this act of flattery.
Revisit your list often. Retweet your targets and comment on their recent articles. After a few weeks, reach out to them about a possible guest blogging opportunity. They will likely recognize you from engaging with them on Twitter, and this could very well be the start of a long-lasting relationship.
Become Someone's "Super Advocate"
The more popular you become, the more guest blogging opportunities you will have. Find someone whose beliefs align well with your own and begin advocating for them via Twitter. Discover this persons goals and interests. Subscribe to and read their blog, and retweet them often. Be this persons super advocate.
To be an effective super advocate, dont expect anything back from the relationship, at least not immediately. The benefits are gradual, but will come over time. Support influential people who are deserving of your loyalty. Keep in mind that they will not always reciprocate your efforts and thats OK.
Focus on your goal of advocating for well-deserving, influential people and the outcome will be recognition of your positive reputation and an increased Twitter presence. With more people aware of your growing status as an influential person, guest blogging opportunities will arise.
Make First Contact on Twitter
Before emailing a target to inquire about a guest blogging opportunity, make first contact on Twitter. Whether you flatter them by adding them to a list or frequently retweet them, its wise to use Twitter for the initial contact.
Consider asking your target a question which will provoke a response, such as a question about their site or a particular article. Maybe you have a question about sources foran infographic they recently posted, or you disagree with a point they made in a recent post and want to pick the blogger's brain about it.
If you cant find their email address (some bloggers are very protective of their inbox!), Twitter is a great way to find out how to get in touch. Once you've made the first contact via Twitter, your eventual email inquiry about that guest blogging spot is less likely to go unanswered. You're not just a random guest post request anymore; you're someone they recognize from Twitter.

Watch Shares on Your Own Posts
Carefully watch who shares your writing, whether it's posts on your own blog or guest posts you've done for other sites. If people share it, they obviously liked it or found it valuable. These people could be gateways to your next guest blogging opportunities.
Check out their blog, and ask if they would like you to write for them. This is an effective, yet simple, way to connect with guest blogging opportunities.
Chances are, if they are tweeting out your work, they are avid social curators and will also be tweeting out lots of similar content from a variety of sources. This can be a great way to discover new targets and great reading material.
Connect your way to ideal guest blogging by utilizing the many opportunities Twitter presents. Its social medias powerhouse, and it shouldn't be overlooked as a useful tool to build great blogging relationships.
Adrienne is a freelance writer and avid blogger. She is always learning new things and is eager to share them in her blog posts about everything from travel to internet marketing. Check out her blog Design Roast to see more of her work, or tweet with her at @adrienneerin.