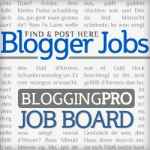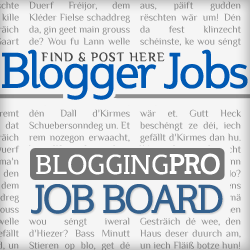 It's the start of a new week, and I hope you're all ready to take on the next five days.
Let's start things off with the job board highlights. Have a great week ahead!
A WordPress/blogging site is looking for a blogger:
-with experience writing about the web, WordPress, social media, and blogging/writing
-who keeps tabs on the latest Internet/social media/blogging/WordPress trends and news
-who is committed and reliable.

The U.S. Holocaust Memorial Museum is looking for a development writer will work with Museum colleagues to draft and edit fundraising materials including letters of inquiry, grant proposals, stewardship progress reports, concept papers, project briefs as well as a variety of development-related documents for both individual and institutional donors on a range of Museum programs. These include exhibits and educational offerings, museum collections, teacher and leadership trainings, Holocaust scholarship, and the Museum's genocide prevention program.
Social5 is seeking freelance writers across the nation to keep up with recent growth. Social5 is looking to hire 10 writers before Jan. 15. A journalism background is preferred, but experienced bloggers and social media consultants are invited to apply. Preference will be given to writers who demonstrate experience in the industries listed below, as well as proficiency in WordPress and customer communication.
Looking for writer for a personal blog focused on self development and lifestyle design with over 20k+ weekly readers; specifically looking for a ghostwriter with a background in storytelling / scriptwriting and a passion for psychology to help develop content the audience (creative professionals) can benefit from.
Secret Escapes is one of the USA's newest and most inspiring members-only websites for luxury travel. They negotiate amazing discounts on four and five-star hotels and vacations and sell them to members in time-limited 'flash' sales. They're looking for a freelance copywriter to support the US content editor.
Author: Noemi Tasarra-Twigg
Editor of Splashpress Media, writer, and geek bitten by the travel bug.