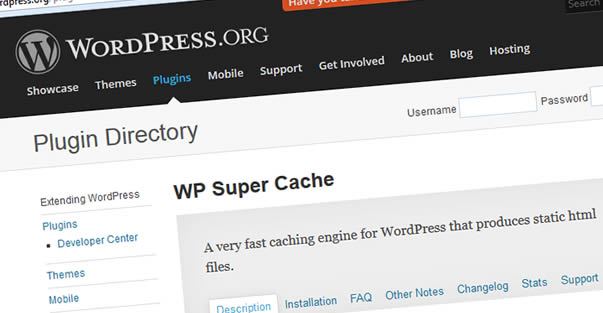 As one of the most popular WordPress cache plugins, WP Super Cache is powering millions of websites. The plugin offers a caching system to accelerate websites by serving visitors with static HTML pages instead of dynamically generated content. It has been recommended by a large number of professional WordPress-related resource sites including PHPMatters.
It is easy to install WP Super Cache and get it started, but many beginners may encounter problems in configuring it properly to make the most out of it. To get rid of this kind of trouble, we suggest you to make the following configurations to achieve the best possible website performance and search engine optimization.
Enable WP Super Cache
After installing WP Super Cache successfully, you will find that the plugin is disabled by default, and you need to go to the plugin admin page to activate it manually. To finish this, you can go to Settings > WP Super Cache to get to the settings page. Under the Easy tab, check Caching On and then click on the button that says Update Status to allow the plugin to work.
There is one thing to remember that you need to backup your .htaccess file before allowing WP Super Cache to make any change to your website because the plugin will update .htaccess file automatically.
If you want to make sure that the caching starts working, you can click on the Test Cache button to run a check. The same time stamps for the two pages displayed in the test result are an indicator that caching is already on.
Configure Advanced Settings
Next to the Easy tab is an Advanced tab. Having a click on it, you will find a large amount of information categorized under Caching, Miscellaneous and Advanced. The settings listed on this page are the core features of WP Super Cache, so you should deal with them carefully.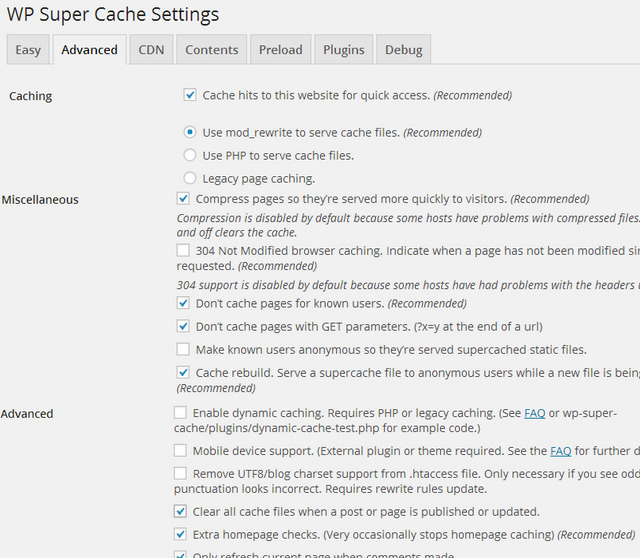 In terms of Caching, we suggest you to follow the settings recommended by the system itself. There is a detailed explanation for the pros and cons of the three caching options, from which you can see that using both mod_rewrite and PHP caching is fast. However, we don't recommend PHP caching especially in a shared hosting environment although the system informs that this option is suitable for new users. PHP caching consumes too much resource.
For the settings included in the categories of Miscellaneous and Advanced, just follow the screenshot above to make them optimal. When you have checked all the options, hit the Update Status button to save all the changes.
Now you are prompted with a yellow box containing lines of code which will be applied to your .htaccess file. Scroll down and choose to Update Mod_Rewrite Rules. When the update is accomplished, you can see the box turn green telling that "Mod Rewrite rules updated!". Now the Advanced Tab is configured successfully.
If you are still a little bit confused about the steps discussed above, this how-to tutorial offers even more detailed information about the settings.
Set Up CDN with WP Super Cache
CDN is a recognized method for speeding up page loads and saving bandwidth. In the case that you are using a CDN service, you can integrate it into WP Super Cache to see a further speed improvement and much easier management. To set up CDN is easy, and you can have all tasks done by following the steps below.
Click on the CDN tab and then check the box for

Enable CDN Support

.

Fill in your CDN URL, for example, http://cdn.yourdomain.com.

Fill in Additional CNAMES with the same URL.

Check the box for

Skip https URLs to avoid "mixed content" errors

.

Click to Save Changes.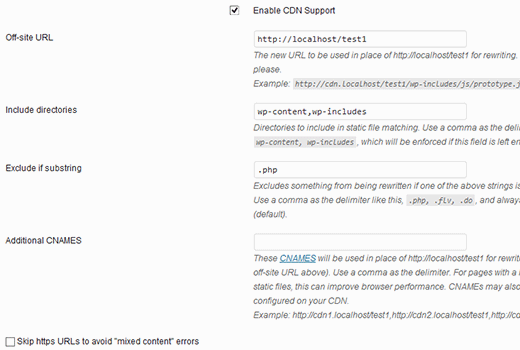 Set Up Contents Tab
The Contents tab is used to show you the details about the cached pages of your WordPress site, including the URLs of the cached pages and the age of them. If you fail to find the latest cache stats, you can click the link of Regenerate cache stats to get updated information. Choosing to list all cached files will show you every page that is cached.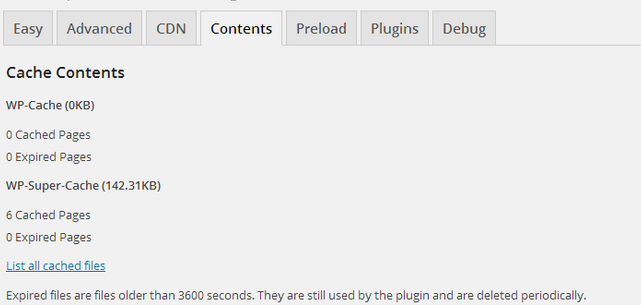 Configure Preload Settings
Preloading allows you to create super cache static files for all posts and pages to serve unknown visitors, which helps much in improving future page loads. There is an interval for refreshing the preloaded cache files which you can inject as you like.
However, in a shared hosting environment, you should never allow frequent refreshing because too many files will result in resource overuse. Therefore, you'd better set the interval to be 1440 minutes to perform refreshing once a day. If you are on a VPS or dedicated server, the value can be much lower. 0 indicates to disable automatic refreshing, which means that you need to refresh the preloaded cache manually.
Having checked the settings as the screenshot below, you need to Update Settings. If you choose to Preload Cache Now, caching starts immediately. When the caching process is completed, click on the Contents tab to check the information about the cached pages.