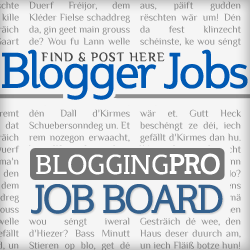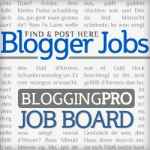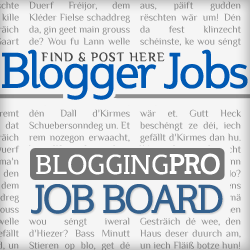 How are you faring after Super Bowl Sunday? Win or lose, I hope you're all set for the week.
Here are some ads to look at – the job board highlights.
BloggingPro Job Board Highlights
Do you wake up in the middle of the night, screaming lines from your favorite movies into the dark? Do you spend every waking moment of your life thinking about video games, or breaking down the respective qualities of your favorite television shows?
No, no you don't. No one does that. But if you DO like any of these three entertainment forms and have a knack for writing, Geek Binge wants you. They're currently hiring a select group of writers to help out on their coverage on everything movies, TV, and video games.
Geek Binge is hiring someone to cover the next half season (and beyond, hopefully) of The Walking Dead! Yes, AMC's The Walking Dead is one of the most popular show on television, and they need someone to step up and review it on a week-to-week basis for the website.
We are looking for writers and bloggers who publish on sites in the following niches that have an Alexa rank of 1 – 100,000:
News and politics
Technology
Business
Eco & green
We are particularly interested in speaking to authors on popular news outlets and blogs.
Are you able to take a stance on who's going to win a game against the spread? Can you then form a technical article supporting that pick using stats and trends, custom built models, game philosophy or any other resources?
What's your specialty? NCAAF, NFL, NBA, MLB, MMA, NHL, NASCAR, Cricket? ATS wants writers from all walks with unique and personable opinions.
Currently seeking experienced freelance editors for book-length manuscripts using the Chicago Manual of Style. Editors will be responsible for copyediting a variety of fiction and nonfiction manuscripts at the mechanical and substantive level.
Author: Noemi Tasarra-Twigg
Editor of Splashpress Media, writer, and geek bitten by the travel bug.