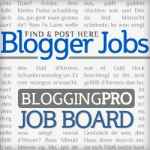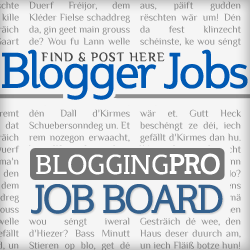 Apologies for not having posted the Job Board highlights yesterday as I was away for a long weekend break.
However, it's not too late to share the best blogging jobs with you today. Sending good luck you way!
3D printing blog needs writers who can commit to writing at least 2-3 articles per week. The applicant should have some sort of writing experience – and formatting for WordPress, preferably online and in the tech space.

New website needs:
1) Full support of website development (website development control for SEO, cooperation with website developers, SEO copywriting and website promotion)
2) SEO copywriting and website promotion separately from the developers after the website is ready
3) SEO copywriting
Day Translations, Inc., is looking for a professional, kind, and creative person to work as a content writer. This is a specific position as a content writer for marketing and SEO (Search Engine Optimization), therefore, they need someone who is interested and capable of writing content specifically with the proper keywords.
Fortuna Medical needs a copywriter to help produce material for their website,direct response letters and emails.
They prefer someone who has previous experience with Direct Marketing.
TheRichest.com is looking for journalists and writers who have a way with words and a passion for viral trends. You'll be working from home.
Author: Noemi Tasarra-Twigg
Editor of Splashpress Media, writer, and geek bitten by the travel bug.