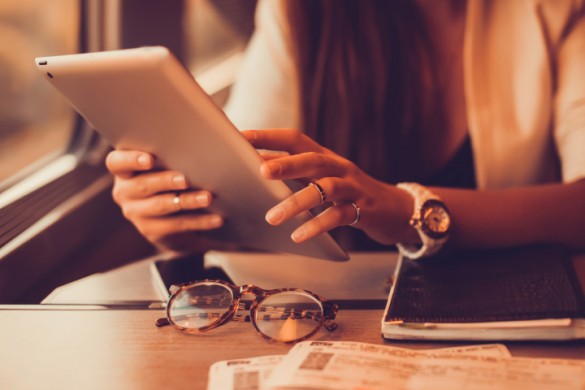 Whether you're a serious hobbyist when it comes to your blog, an aspiring professional, or you're already paying the bills with the content you're generating, it's likely you still have room for some improvement. While regular content is king, the more subtle aspects of a blog — its appearance, your social media involvement, a multi-pronged approach to marketing, and the like — all affect your readership (or viewership) as well. Here are seven tips for bloggers who wants to increase traffic.
1. Killer Design
Good design offers visitors much more than just a pleasing appearance, it also makes accessing and interacting with content on your blog easier. From searching for posts and tags to ease of commenting, a killer design will make reading or viewing your blog a pleasure. If you're working on accomplishing a great website design yourself, be sure to take into account any mobile blog traffic you might get. Optimizing for mobile is a fantastic way to reach out to more people, as more and more people are accessing the web via their mobile devices. And, ever since Google changed their algorithm for mobile search, sites that are optimized for mobile are more heavily weighted in rankings.
2. Share and Share Again
Every blogger shares his or her posts via social media, but the savviest, and the most heavily trafficked, share more than once. For each blog post, craft three different tweets, Facebook posts, Instagram pics, and the like, and then, over the course of a day or two, share them. Doing so will capture people who only log on to social media at specific times, increasing the chances of engagement, which will yield more shares that didn't originate with you.
3. Be Strategic
Good strategy should be applied to every business endeavor, and regardless of whether or not you're trying to make money, you need to be strategic about your blog. So, if you aren't already, you need to write and post regularly — as much as every day, if you're able. Also, you need to produce high-quality content every time you post. Finally, you need to post content that meets some kind of need in your audience. Think about the people you want to read your blog: What do they love? What do they want to know more about? From there, give them content that's either rich and entertaining or practical and useful.
4. Find Your Audience
While there are plenty of places to hang out online, you and your audience have some favorites. Instead of posting to every social media site you can hunt down, go to where your audience is and interact with them there. Do they love Pinterest? Reddit? Some off-the-wall gamer forum? Don't aim at everybody and everywhere when you're marketing your blog. Hone in and get to work where you and your audience feel most at home.
5. Be Active About Town
Running a blog can make you so focused on that blog that you forget the wider online world. Don't! There are great opportunities all over the place to learn, comment, and post. Seek out other like-minded and complimentary sites, and ask for a guest blogging spot. When they agree, really deliver the goods. Invite influential bloggers and thinkers to write for your blog. Comment on other blogs and articles, and always respond to any comments that may result from guest blogging and comments. In much the same way that a new business owner hustles about her neighborhood to be seen, meet people, and otherwise become an indispensable part of the local landscape, you need to do this in regards to your blog.
6. Care About Comments
If you haven't already enabled comments on your blog's site, do so immediately. Interacting with your audience and allowing them to interact with you is one of the fastest and most reliable ways to increase traffic. No matter how inane or inconsequential a comment, respond to it with grace, honesty, and aplomb. Readers and viewers are won over by that kind of careful, individualized attention, and your reputation as someone who cares about the audience will invite new viewers and readers as well.
7. Go Multi-Media
Especially if you're a writer, look into adding other media to your blog. Not only will it aid you in search engine rankings to take a multi-media approach, but it will also make your blog more interesting to a wider variety of people. Also, photos and video make any blog more pleasing to the eye, regardless of whether or not readers are paying attention to them.
Increasing your blog's traffic isn't rocket science. Follow these seven tips, and you'll have better numbers in no time.