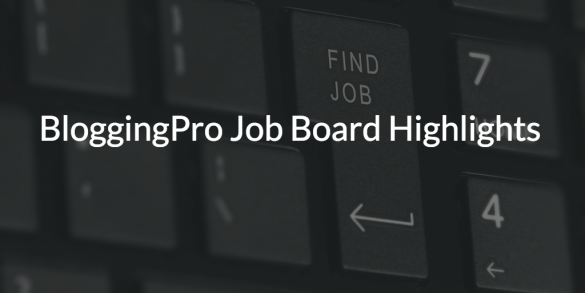 Good morning, everyone.
Here are some of the best blogging jobs for you to start the week right.
Wishing you luck and a great week ahead!
Best blogging jobs this week
At bidpin, a content writer will get to jump right into our start-up environment.
We're looking for someone who is flexible in content writing, preferably in the marketing industry. Specifically interested in a writer that can optimize content for Sales purposes and writing for a specific call to action.
Magnetude Consulting is looking for a marketer with a solid understanding of the enterprise IT industry who is a good writer and comfortable with social media to play an important role in a client project.
The ideal candidate has experience with social media and inbound marketing strategies for the B2B tech sector. This position is focused on a particular client to start, but could easily expand into other work with our agency.
fxhq.com is looking for freelance financial writers.
We specialize in financial news mostly Forex news.
We want writers who are experienced with the Forex market.
We are looking for both technical analysts writers and news reporting.
Vampfootwear.com is seeking a published writer to contribute to its B2B footwear coverage. The ideal candidate for this remote freelance position has brand and retail contacts within the footwear industry, including comfort, women's fashion, men's, athletic and work. Assignments include designer interviews, retail profiles, trend reports and collection previews. Please be comfortable with reaching out to companies for interviews and quotes, and pitching stories.
SPi Global is looking for experienced copyeditors to work on a freelance basis from their home location.
Experience in the higher education/trade market is a strong plus
A strong command of the English language is imperative as much of the work is editing the writing of authors who are not native English speakers
Copyeditors should be familiar with the standard copyediting styles (CMOS, APA, AMA, etc.) and marks
Author: Noemi Tasarra-Twigg
Editor of Splashpress Media, writer, and geek bitten by the travel bug.