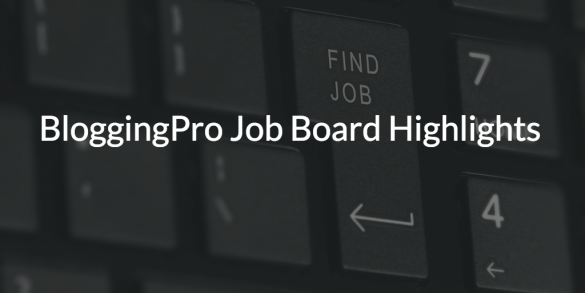 How was your weekend? I hope you had all the time you needed to recharge and get ready for the week ahead.
Here are the best blogging jobs from the Job Board. Good luck!
Best blogging jobs this week
If you're an experienced writer who knows everything there is to know about Kylie Jenner's last Instagram picture, anticipated Nick Jonas' comeback years ago and won't be able to sleep until Mockingjay hits theaters, we have the perfect role for you! We're looking for freelance entertainment writers to work from home, write two posts a day and, depending on location, cover events in their area.
Experiment Engine are seeking talented CRO writers. Topics covering statistical significance, testing strategies, copywriting, UX, and unique CRO topics.
Articles on their blog are typically over 1000 words and are well researched/backed by data. (No opinions)
Compensation is based on experience and post quality.
Guns.com is adding a consumer news reporter to cover the day-to-day developments of the gun industry, and explore not just why guns are bought, but the efforts behind how they're sold.
This position requires someone who can sniff out the lead in a press release or legal document, identify trends and patterns in the industry overall, and understand the subtext in marketing and political language. Someone who can identify the cultural, legal, technical and political activities that affect the consumer market.
Bustle.com is seeking part-time entertainment writers to remotely contribute 2-4 days per week. Writers should have extensive knowledge of TV and film, strong news judgment, a fun and witty voice, and the ability to write quickly and cleanly.
We are looking for writers to cover breaking news, film, TV, and longform so please be specific in your cover letter to which type of writing you are most interested in.
Author: Noemi Tasarra-Twigg
Editor of Splashpress Media, writer, and geek bitten by the travel bug.