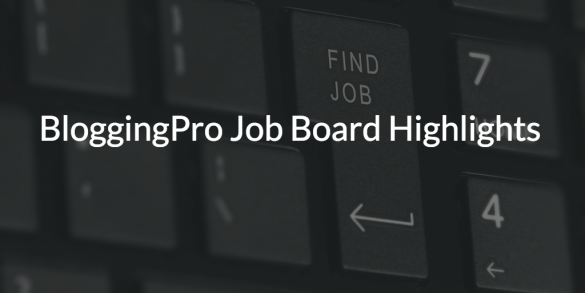 How's everyone doing this morning?
As usual, we bring you the best blogging jobs to give you a boost to start the week.
Best of luck!
Best blogging jobs this week
Whiteboard Geeks needs a content writer urgently. They've got the strategy and content ideas. But the actual writing is turning into a HUGE roadblock. They don't need generalists but bloggers who can write in-depth articles.
A brand new Millennial Lifestyle website is looking for paid weekly contributors to produce quality creative content and one-of-a-kind editorial features. The perfect candidate is an opinionated trend-spotter that loves to develop his own angles, is constantly taking pictures of great street style to post on social and has a deep understanding of what's buzzed about in millennial culture. As a contributor, you have the opportunity to creatively pitch and write your stories in your own unique voice.
Needed: a creative writer to write articles for Halloween website (http://www.knoxturnal.net). Pay is $10-20 per article (dollar amount based on how good the article is, minimum $10.
Waremakers is in search of a writer to provide content in 3 areas of its website:
Guides – http://www.waremakers.com/guides
Ware Stories – http://www.waremakers.com/warestories
Maker Stories – http://www.waremakers.com/waremakers
Fiverr.com is looking for freelance content writers for their blog, and other social properties. They believe content is an excellent way to educate freelancers on getting the most out of the things they love to do. They're looking for a few more passionate writers who are excited to write about entrepreneurship, freelancing, small businesses and startups.
Author: Noemi Tasarra-Twigg
Editor of Splashpress Media, writer, and geek bitten by the travel bug.