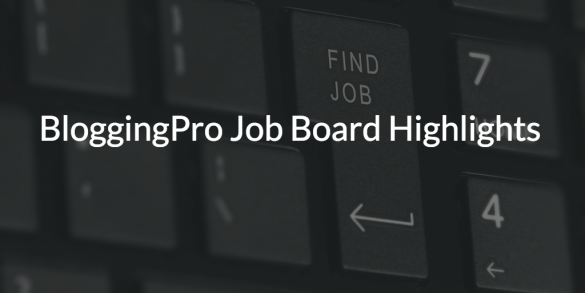 Good morning, everyone!
Here are the BloggingPro Job Board highlights.
Best blogging jobs this week
WordCandy needs a writer.
Qualifications: You are seriously passionate and knowledgeable about the self-hosted WordPress platform; WordPress.com just doesn't cut it for you. You have dabbled with blogging before. You're very comfortable with HTML and CSS, and may also have an understanding of PHP. You may have done WordPress design and development work in the past (as a hobby or professionally).

LIVE WORK TRAIN is an exciting new blog about fitness, nutrition, gym training and general well-being.
We are looking for a writer who can deliver blog posts on a regular weekly basis. You do not need to be a professional but you need to be able to write fluent, interesting or entertaining posts up to 500-700 words long. A fee will be paid on a per-post basis.
WDWFactoftheDay.com features a different fact on Walt Disney World every day. We are looking for a writer to product a mass amount of facts and embed associated images. We are looking for somebody who can do blocks of 100 updates.
Looking for US-based journalists to write for our company on US-based newspapers and other online media outlets.
Payment varies and is based on the quality of the site published to.
Clusterpoint is NoSQL database-as-a-service provider looking for freelance writers skilled in NoSQL database technology.
We are looking for a freelance writer to contribute regularly to a new blog on our company website. Knowledge of NoSQL, database technologies, dbaas, software development is essential; an understanding of trending Big Data topics is also desirable.
Author:
Noemi Tasarra-Twigg
Editor of Splashpress Media, writer, and geek bitten by the travel bug.