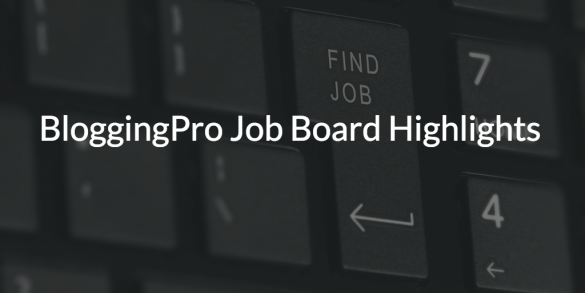 How was your October? We've still got a week to go, so let's make the most of it, shall we?
Here are the best blogging jobs from our Job Board this week, and I hope you get more gigs to end the month on a high note.
Best blogging jobs this week
Soccer International is looking for online, freelance writers whose area of expertise is the Spanish second tier, La Segunda.
If you know the software security space – and more importantly, if you like writing about it – then today is your lucky day. Our agency is now working with a number of software security vendors, and now we're looking to add some experienced bloggers to our team. Specifically, we're looking for 3-5 writers for on-going work.
OutdoorHill.com is a hunting blog dedicated to providing other hunters with tips, stories, and product reviews to assist with any of their hunting needs. Our writers are made up of people who are absolutely fanatic about hunting.
We are looking for people blogging for us (2 – 4 articles/weeks) mostly about topics we'd give them, but also about topics they are able to come up with themselves. You will have to research the topics to write content that provides real value, not a rehash of what you googled on the topic.
Vitamin T is currently in search of a Proofreader for our client in Metro Detroit, MI. This is a part-time, remote role (though the client would prefer someone local), and the hours will fluctuate based on the current needs of the client.
Our luxury accessories client is looking for a SOCIAL MEDIA STRATEGIST / WRITER to support their team ongoing for 15-20 hours a week. The ideal candidate will also have light design skill!
You will be responsible for creating the content our client will use for their social media platforms – Facebook, Twitter, Instagram, etc. You should be familiar with tagging techniques and trending hashtags to increase engagement.
Author: Noemi Tasarra-Twigg
Editor of Splashpress Media, writer, and geek bitten by the travel bug.