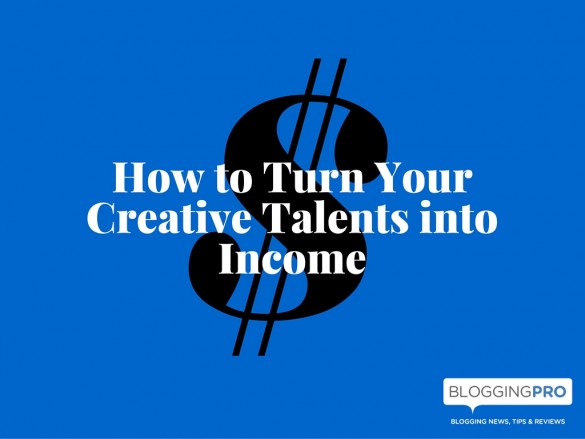 Writing is a craft. Like any craft-based profession, your revenue stream tends to vary from month to month. That inconsistency isn't a problem if you're making enough, but in this business the competition is stiff and job opportunities fleeting. It's useful, then, to supplement your blogging income in other ways—especially if you're just starting out. But herein lies a problem: you've dedicated your time and energy to make a living as a creative, and getting another day job seems like a step in the wrong direction.
Not to worry, as there are several avenues to explore as a creative professional looking to make extra money. If you're already getting paid to write, you've probably come to realize that merely sitting down at your desk and churning out page upon page of material isn't going to get you paid. You're a writer for hire, so you need to establish good working relationships with people who will actually pay you. The same is true for almost every other creative profession that can be embarked upon from home. You must start with raw talent and refine it into works of media that will make you and your clients lots of revenue.
Let's look at some common creative talents and examine how they can be turned into tangible income.
Make Money Making Music
Alliteration aside, it's entirely possible to make a decent income by making music. It might require some initial investment, but for many the thrill of selling their art is worth it. Financially speaking, it's a very good investment, indeed.
A word of caution: if you're new to music production, the learning curve is quite steep. It's best to take things slowly and purchase pieces of equipment one at a time while learning the ins and outs of the craft. Don't expect to be an expert overnight, and definitely don't think taking out small loans is justified to buy equipment—if you work hard enough, you can make money with music, but there's no guarantee you'll be able to repay that loan on time.
How does one get paid for their music endeavors? Selling stock music is the best option for freelancers. It's relatively easy to get into and provides the same flexibility and freedom as blogging. Different licensing firms like AudioSparx and AudioSocket work with artists to get their tracks sold and fair royalties paid.
Build a Business on Etsy
If you're a more hands-on creative type, consider selling custom-made crafts on Etsy. Alicia Shaffer, a mother of three, makes $70,000 per month selling socks, scarves, and headbands. Yes, you read that correctly.
Of course, Shaffer is an extreme example. But she proves Etsy provides a very lucrative online forum to sell handcrafted goods. In fact, some 30 percent of this contingent workforce earn money solely from their creative work.
Consider Selling e-Books and Print Publications
If writing is your only true creative passion, there are ways to supplement your blogging income with it. Selling electronic and print books is a great option. Don't worry—you don't have to write a 30,000 word novel to sell a print-on-demand or ebook. You just have to be familiar with classic works of literature.
Websites like Project Gutenberg archive literary works in the public domain. Consider getting familiar with some of these works (and especially aim for niche subjects), then write commentary or forwards to them. You can also combine several works into a collection.
Use a print on demand or ebook service like Amazon's Createspace to list your books. Doing this often enough will build a large library of monetized content that will sell slowly over time, letting money trickle into your pocket each month.
Warning: nobody likes a spammer. Put some time and effort into the books you're trying to sell. Design nice covers, create a nice layout and interior, and most importantly—contribute something original to your edition.