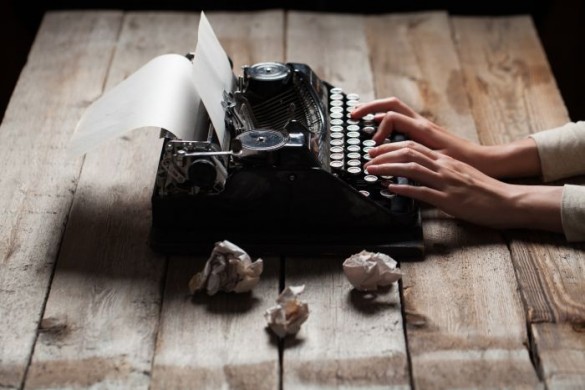 Have you ever had one of those painstaking experiences where you were literally staring at the screen for several hours, yet you couldn't bring yourself to write even a single sentence? Yes, you had a topic in mind, but you just had no idea where and how to start.
Don't worry—you are not alone. Almost every blogger has experienced this serious case of 'writer's block'.
That's why bloggers are so keen on looking for ways to get their creative juices flowing since experiencing the writer's block is an all too common hurdle that they need to deal with.
If you're sick and tired of experiencing it and are looking for proven and tested ways to rid yourself of the dry spell, then you're in the right place!
I will share with you 5 tips that will help you conquer the dreaded writer's block.
1. Ask TONS of questions.
If you have a topic in mind but can't seem to start writing, try reversing roles with your audience. If you were the reader and not the writer, what do you want to know or read about?
Here's what I normally do:
First, I write down all the possible questions that my audience would probably ask me.
For example, if I were to write about time management, my readers would probably ask me these questions:
Why do I need to know about this?
What problems do time management solve?
What are your experiences in time management?
What are the advantages of balancing my time?
How can I logically apply time management?
How can I backup my conclusions using empirical evidence?
I tend to list down 10 – 15 questions (sometimes more, sometimes less, depending on how lengthy the write-up should be). I then try to re-arrange the sequence of the questions so those that are closely related are bunched up together. Doing these add a smoother transition to how my ideas flow as soon as my audience starts reading the write-up from top to bottom.
Now that I had gathered several questions, which my audience are keen to know the answers, I would then now proceed to the next step where I start to answer all of these questions. I try to keep my answers as comprehensive as possible by adding examples, statistics and even my personal takeaways.
Once all the questions have been answered, I then start adding an introduction and a closing paragraph where I add a clear call-to-action offer.
Lastly, I proofread the article.
2. Use an outline.
Photo courtesy – © LoloStock / Dollarphotoclub.com
In building a house, you have to draw the structures and shapes, identify where the rooms shall be located, and take measurements before you start laying down the foundation and actually start constructing it.
If you ask me, that pretty much sounds like an outline.
Can you imagine constructing a house without an outline/blueprint?
The same also goes for writing. Using outlines will make it easier for you to build transitions, organize your ideas, and see the flow of how your article will turn-out even before you start writing the nitty-gritty of it.
This is the template that I tend to work with when I writing blog posts.
# WORKING TITLE
intro
## SECTION 1
– what this section is about
– why it matters
– research or examples
– takeaways
## SECTION 2
– what this section is about
– why it matters
– research or examples
– takeaways
## SECTION 3
– what this section is about
– why it matters
– research or examples
– takeaways
***
conclusion
<small>Image credits:</small>
Note – This template belongs to Belle Beth Cooper of Ghost.org. I'm a huge fan of her work and have been blessed to have come across her template. It has since then improved my productivity in writing, all while improving my write-ups' overall quality.
My outline can vary based on the purpose of my write-up, but for whatever purpose my blog post serves, I almost always prepare an outline first.
You can choose to add more elements in your outline or even specify the elements depending on your topic.
Yes—it is time-consuming but in hindsight, it actually saves me a lot of time since I already know how I want my article to look like and what the article should contain. All I have to do is fill in the blanks.
Plus, an outline allows flexibility. If you can't elaborate on subheading 1 for now, you can jump to subheading 2 or subheading 3 then get back to subheading 1 later. It won't matter as long as you have your blueprint.
3. Verbal vomit
If you can't seem to write anything, here's strategy that might work for you. Why not write about your frustrations and just rant before getting started with the actual write-up?
I bet you've experienced this too: Before I write anything down, I switch to perfectionist mode. "Everything has to be perfect or I'll fail at this big time."
When we choose to preempt ourselves this way, we get stressed out. Stress causes the creative side of the brain to shut down and thus, we end up being unable to write anything down.
Therefore, what I do is I literally rant about how frustrating the experience is when I can't get anything written. I write things like, "Where on earth have all my ideas gone? I'm supposed to be familiar with the topic, but I can't seem to write even a single word. Experiencing the writer's block is so frustrating that…".
This is called 'verbal vomit' or simply free writing. When I start writing about my frustrations or anything that comes into my mind, my creative juice starts flowing as well. This is because I have managed to keep the linguistic side on my brain active by not restraining it with stress.
Using this strategy, your flow of thoughts will start streaming again in no time. Just make sure to delete all the gibberish you've written down after having finished your work!
4. Use the cause and effect format.
Photo courtesy – © Ivelin Radkov / Dollarphotoclub.com
This strategy tends to do an amazing job when I try to write something that I want to connect closely to my audience.
Writing usually becomes pretty straightforward when using the cause and effect format. All you need to do is talk about the cause first (and the surrounding situations that make it up), and then the effect of that cause OR you can do it the other way around.
Pretty simple, huh?
However, when using this strategy, it's important that we position the write-up in such a way that the readers are engaged. Your readers need to feel that it is their situation that you are describing in the cause/s or effect/s.
Simply talking about the cause and effect of something without relating it to the readers (or talking about how it will affect them) tends to make the write-up dry and uninteresting.
Try talking about what causes your readers' problems. This will surely be of interest to them since they can relate to both the cause and effect that you've described in your write-up.
Important tip – Whenever you're talking about your reader's problems, try to go as in depth as you can and rub it on their faces.
This is a technique that most copywriters use to elicit reactions from their readers.
What this strategy does is it reminds your audience of how painful and frustrating the experience was when they were dealing with it themselves. At this point, they then become emotional making it easier to influence them to take action.
Of course, that is why you need to add a clear call-to-action on your posts so your readers don't have to guess what actions they need to do. By adding a clear CTA, you literally spell it out for them making it easier for them to act.
5. Talk about the different elements concerning your topic.
You can look at your topic from different angles—it doesn't have to be one dimensional.
Usually, a topic has several elements that you can talk about.
When you're talking about products, the different elements could be price, how the product works, color, performance, its edge against its competitors, its pros and cons, etc.
When you're writing about a specific industry like automotive, real estate, or marketing (among others), the different elements could be the best practices that industry experts use, the common pitfalls of the industry, or the latest news or events about the industry, etc.
This technique is especially useful when you are writing product reviews. If you'll give this ultimate4trading review page a quick gander, you'll find how it is packed with the different elements that we were talking about. It has sections talking about the product's promise, what the product is, and how it works (among others).
Remember that there is no one-size-fits-all rule when it comes to writing down the elements. All you need to do is uncover the different elements that make-up your topic (it usually takes me less than 5 mins to do this), then start writing about the different elements.
This can serve as the body of your write-up.
Before you write about your topic, I suggest you list down all the elements or any relevant details pertaining to your topic first and incorporate everything later on.
Looking at things in a narrow perspective will only minimize your creativity.
Conclusion
Indeed, it really is frustrating to experience the writer's block. But hold your chin up and remember what Fennel Hudson once said: "Confront the page that taunts you with its whiteness. Face your enemy and fill it with words. You are bigger and stronger than a piece of paper."
What do you think about this article? Share your comments below!
Featured Photo courtesy – © 4Max /Dollarphotoclub.com