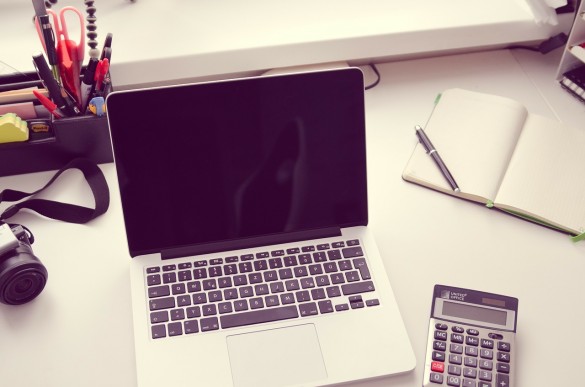 Most bloggers start off with a money-making mentality from the outset, seldom do you find bloggers who have built something from scratch, generated a steady stream of visitors and then decided to try and make money from them as an after thought. Regardless of which bracket you fall into, this guide will teach you the key techniques/models used in order to generate profit from your blog.
I'm going to assume that your blog is based on a good domain, has good quality hosting and has a design that is going to attract advertising. No matter what knowledge you have of blog monetization, having a blog which doesn't load, isn't secure or just looks so hideous that people click back as soon as they land on your homepage – it's not going to be a success. You need to have a good solid foundation before you can possibly think about earning a significant income.
If you're struggling for web hosting, I personally recommend HostPresto (they host my own blogs) and if you're looking for cheap but high-end themes, then ThemeForest is your best option. If you want good content though, you're on your own! Writers are hard to come by so if you have the time, do it yourself.
Making The Money
Below I will discuss several of the key monetization methods from generating income. This guide is only designed to be an overview but hopefully it will give you something else to consider and may just steer your blog in a better direction.
Affiliate Links / Banners
This can be a huge source of income if 1) You have a lot of traffic and 2) Your blog is highly on topic. If your blog is of a general topic such as a lifestyle blog, which covers lots of topics then you're going to struggle generating income. It's extremely difficult to cross sell products or services to those who are not specifically looking for them. You may however write a post, which generates a lot of traffic, short term and in this instance you may well be able to push an offer. If your blog is on topic such as something in the travel niche, you may well be able to push travel deals such as flights, hotels, weekend breaks etc but try doing that when your audience isn't travel orientated and you're going to struggle. If you want to push affiliate deals you're going to need to find offers specifically relevant to your audience which is why it's best to choose an overall theme and stick to it.
Direct CPC/CPM Advertising (Banners)
Again relevancy is going to be a key factor with this monetization method as nobody is going to pay to advertise their product or service on your blog if your visitors are not specifically interest in what the advertisers are pedaling. It would be wasted money on their part. If on the other hand you have a highly relevant blog on a given subject you may well attract advertisers. It will be cheaper for them to buy ad space at a fixed rate than paying by click or paying you a percentage of their profits so you may be able to negotiate a good deal.
The other advantage is that you can sell lots of ad space at a fixed rate as it's of no consequence to you if your visitors click on their ads or not as opposed to with an affiliate banner set where you need them to click and buy specific items.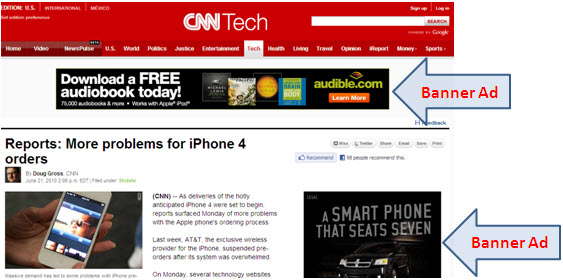 Sponsored Posts
This is where a lot of bloggers make their living these days. A sponsored post is an article that you place on your blog that will contain a link to a third party website or advertise a third party product directly. The price you can command for such can really be anything you like, but if you're serious about selling then you really need to make your price points in line with the rest of the market. Too high and you'll drive away your potential customer, too low and you'll lose money – or the buyer will think that your blog is such low quality if you're offering cheap posts that they may choose to avoid you altogether. To get an idea of the pricing it might be best to e-mail some other blogs in your arena to see how much they charge for such a post – this will give you at least some idea on how to price up your options.
Google AdSense
AdSense has long been a favourite amongst bloggers as it's quick and easy to implement, allows you to make money completely passively and ultimately offers quite good rates providing you're advertising something with a high click price. The only issue is that you're going to make next to no money unless you have a significant amount of daily traffic. You could sell a post on your blog with 10 visitors per day, to make any real money from AdSense, you'd need a 1000. Then there is the issue with ad blockers and just general banner blindness. Ads of the nature provided by AdSense are effectively a thing of the past and many of the larger blogs are running them for more contextual ads. But that's not to say you shouldn't try it. My advice would be to use AdSense as an additional source of revenue, not a primary source. The extra money it brings would be a nice bonus and as long as you're not substituting affiliate banner ad space for Google AdSense ad space then it should be an additional income stream as opposed to an alternative.
You can choose to apply any or all of the above methods to your income generating model, none will negatively effect the other (within reason) and if your goal is making as much income as possible then a combination of all the above is most definitely the way to go.