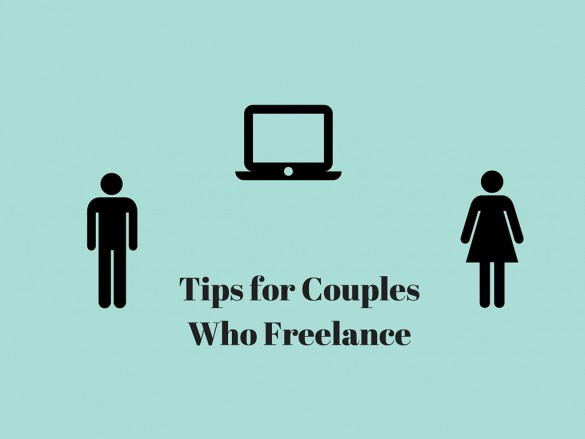 They say you should never work with your significant other. Nonsense! At least where freelancing is concerned, couples can work together effectively as fulltime breadwinners. If both romantic partners possess the same passion and commitment to their freelance work, the possibilities are limitless.
The key is to turn your work into an efficient two-person business. There are some pitfalls along the way, but by being mindful of each other and your relationship, a couple who freelances together can truly shine. Here are a few tips for preserving that crucial work/relationship balance.
Keep Regular Business Hours
Everybody who works from home should take this advice to heart, but it goes double for couples: have set hours to work each day, and make sure that when you "clock out," you leave any unfinished business for the next work day.
Of course, it's important to turn your projects in on time. But obsessively drudging on well into the evening hours can take a serious toll on your relationship. Therefore, make sure you have a specific time each time when business is discussed, and a time when business is not discussed. Nobody wants to talk business while they're trying to decompress or relax.
Keep Work Out of the Bedroom
Couples should have specific rooms in the house where absolutely no business is to be discussed. If possible, discuss business or work only in a designated area such as an office or library. Whatever you do, don't bring business into the bedroom. Nothing kills a romantic evening like talking about work.
It's probably not a good idea to talk about work while you're taking your morning shower, either. In all, keep personal, intimate spaces sacred—and resist the urge to talk about the latest business development or project the two of you will be working on.
Try Discussing Business Outside of the House
Keeping with the advice not to taint personal spaces with work, try having chats about business or work outside of the house. A coffee shop, library, or restaurant are great places to have a quick meeting. It also provides a "cool down" time while traveling to those meeting places. It's important to resist the urge to talk about business 24/7, so use these cool down times to talk like a regular couple.
A public place is also a good choice if you need to tell your partner something which may evoke emotion. Public spaces make for level heads when discussing touchy subjects. The last thing you want is to end up in an argument over something business related—that's the exact kind of behavior that turns a happy couple into a nightmarish and tense business-only partnership. You can avoid calling in the divorce lawyers if you approach your partner with the same tact you would with an ordinary co-worker.
Act Like a Couple
It might seem obvious, but this piece of advice is extremely important for working couples: when you're not "at work," act like a couple. Go on dates, have dinner together, spend plenty of intimate time together, and most importantly: talk. Talk about anything you want, so long as it's not about the big work order you'll be tackling tomorrow.
Overall, couples need to strive to create a divide between their personal and business partnerships. Of course, the nature of freelancing will naturally lend itself to breaking some of these rules. That's okay, but it's important not to make a habit out of mixing your work and personal lives.
Keep these tips in mind and you'll become a powerhouse couple that works well during business hours and beyond.