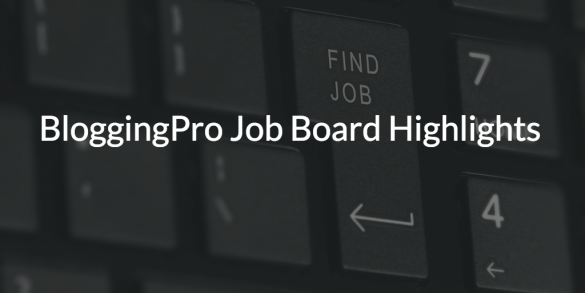 Are you counting down to Christmas or to Star Wars? Either way, I am sure you're looking for jobs to keep the income coming.
To help with that, here are the best blogging jobs we have for you today.
The best blogging jobs this week
Large online pet publisher is looking for new and excited bloggers to join our content team on a freelance basis. We are looking for daily and weekly bloggers to submit dog and cat content. Think you can write in the style of 3milliondogs.com then send us an email.
Wanted:
Native speakers/writers in English and / or Polish
College Juniors or Seniors in communications, public relations, marketing, journalism, or English
Ability to provide a relevant writing style to fit the portal's international profile
Knowledge of best practices for writing web content
Wanted:
Smart, savvy, online writers/editors with proven facility with health/wellness, health sciences and/or parenting content
Willing to commit a minimum of 20 hours/week to this project on an ongoing basis
Able to work quickly and accurately to research, update and improve content
Author:
Noemi Tasarra-Twigg
Editor of Splashpress Media, writer, and geek bitten by the travel bug.