A great website homepage is like the welcome mat for your site – it gives an opening invitation, tells the reader a little bit about who you are, and encourages them to venture further. A good website homepage is the key to a successful site, but not all homepages leave as good of an impression as a tasteful welcome mat. In fact, many homepages make the visitor want to leave.
The key to enticing more customers and promoting your website is found in the development of your homepage. When your homepage is tastefully designed, leaves a simple message, and compels the reader to move forward, you'll find more leads from your website and improved customer retention.
Here are a few tips to get you started.
1. Strong and Simple Logo Design
When you walk up to a door and see a tasteful welcome mat, the design tells you a little about who lives there. Your homepage is very similar, and if you don't have a simple, yet distinguishable logo displayed at the top, it will be difficult for users to get a sense of who you are and what your company offers.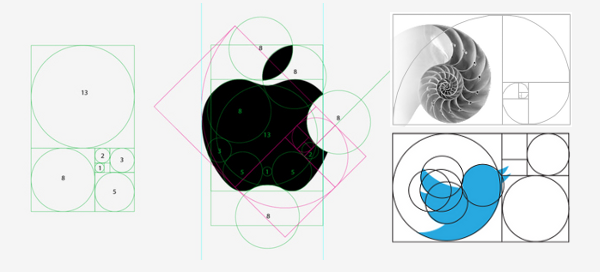 As a friendly advisory, avoid colors and graphics that clash with your website design. You're creating an image for yourself, which requires a unified look. Without a little unity between your designs, making a solid impression on your web visitors becomes a challenge.
2. Brief Description of Your Site's Purpose
Another important aspect of your design is providing customers with a desire to stay, which can be accomplished with a simple, but thorough description of your company. This text should use a similar dialect as your audience. There's no need to embellish with overly sophisticated speech.
As a great example of this, consider the language Dropbox uses on their website. Instead of labeling their files as "data," "photos," or "archives," it's simply labeled as "stuff." As a sophisticated cloud storage provider, it would have been easy for them to use a more professional name, but they recognized their audience would be average users, and they created an experience to match that on their homepage.
3. Call to Action Encouraging Further Engagement
It's important to focus on your page description and create a logo web visitors will remember, but it's even more important to guide them to appropriate action. This is where the call to action comes in.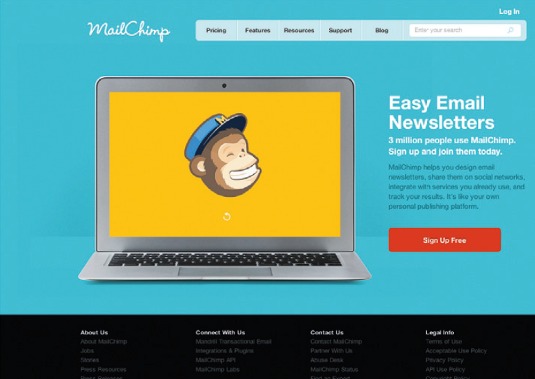 Mail Chimp call to action
One mistake designers make when creating content for homepages is using only one call to action – offering just one choice to make. This limits the number of problems your website can solve. Hopefully, you will have a variety of visitors, and you'll have a solution for each of their unique needs. Offer three or four clear choices on your homepage, each designed to solve a specific problem. This will create several paths that will all lead to some sort of action.
4. Testimonials and Other User Generated Content
There's nothing more inviting on a homepage than user generated content. This content is comprised of comments from real human beings, which your users can connect with. When you have a testimonial on the opening page of your website, it acts as the start of a compelling conversation, in which you can engage your customers and plant the seed that will lead them to action.
5. Keep It Informal, but Professional
Just as you should avoid speech that's too formal, you should also avoid being too professional in your website text and design. The level of your homepage's professionalism should reflect the level of professionalism of your target audience. Anything that's too formal will make your users feel unwelcome. For them, it would be like wearing jeans to a tuxedo party.
The last thing you want is for potential customers to feel unwelcome on your website. That's the best way to lose customers and tarnish your reputation. Make a concerted effort to speak your customers' language, and they'll return the favor by furthering the conversation. Steady customer interaction is just around the corner.