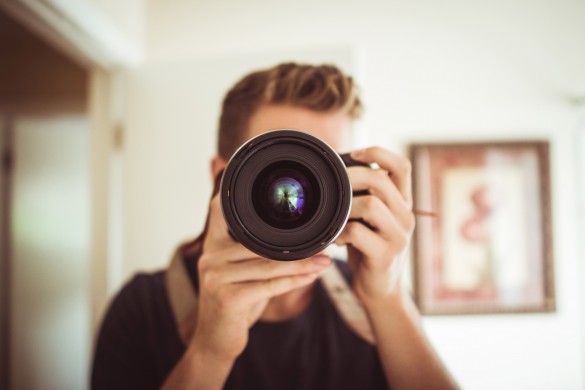 If you're honest with yourself, you'll admit that content marketing is becoming increasingly visual. As a writer that can be sobering to admit; however, it's important. The numbers prove that internet users respond better to blog content that's visual in nature, as opposed to primarily text based. And while you can't forget about the quality of your writing, you do need to pay attention to the imagery and mediums you're using to engage with your users.
The issue is that finding compelling imagery isn't easy. You want to avoid stock photos at all costs, but may not be able to afford custom images for every post you develop. What's the best option? Well, don't smirk, but it may be time to dust off the camera lens and start taking some pictures yourself.
3 Tips for Custom Blog Imagery
"But I'm not a photographer," you may be saying. Well, the good news is that you don't have to be. Keep these tips in mind and you'll be taking professional looking images in no time.
Appropriate Lighting is Crucial
If you want to get an idea of how important lighting is when taking pictures, just browse through real estate listings on Craigslist. You'll find a lot of amateur photos with poor lighting, reflections, and shadows. Now, visit a site like Zillow and check out the professional listings. What do you notice? Most listings have professional photos with good lighting.
As a real estate professional would tell you, "Lighting can make or break a photo." The same is true for a blogger. When you begin taking photos, you need to pay careful attention to lighting at all times. For more information on best practices and tips, check out this helpful resource.
Consider Orientation
When taking pictures, you'll want to consider vertical versus landscape orientation. There are advantages to both, but you must know the purpose of the photo. For example, if you're taking an image for the goal of creating a Pinterest pin, then vertical orientation is ideal. (They take up more space and increase the chances of being seen). However, if you're taking a photo to be used inside of a blog post, landscape may fit more naturally without creating awkward white space.
Learn the Rule of Thirds
In professional photography, the "rule of thirds" is one of the first things you'll learn. A person's eyes naturally gravitate towards one third of the image, and you want to maximize this attention. Take the Mona Lisa as an example. "Her eyes (focal point) are in the top third of the image," says photographer Tamara Bowman. "Had her eyes been in the center of the painting, it would not have been as interesting and may have even felt a little awkward."
Study the rule of thirds and keep it in mind as you hone your skills. While your blog readers may not blatantly recognize rule of thirds mistakes, they will sense something is off. Poor photo compensation is a big mistake and can push readers away.
Start Practicing Today
Written blogs will never completely disappear, but it's clear that things are becoming increasingly visual. If you want your blog to succeed in the years to come, you need to begin investing in quality visuals that engage users and position your thoughts as compelling and worth the read.
As you can see, taking your own blog pictures is not only possible, but it can also be relatively simple. As long as you have the right equipment and a healthy dose of patience, you'll be fine. Reference these tips, do some more research, and start practicing today!