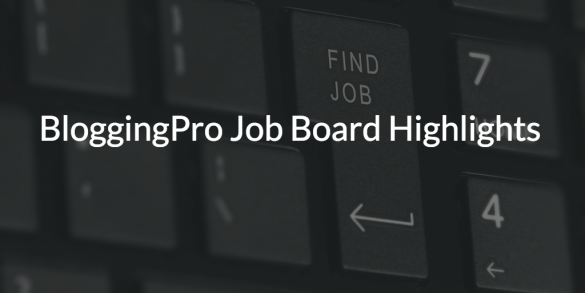 It's Monday once again, and you know what that means: the best blogging jobs from our Job Board.
With Christmas coming very soon, I hope you're not getting too frazzled and still have time to get a new gig to end the year nicely; so, here you go!
Best blogging jobs this week
CallerSmart seeks to educate and help people avoid phone scams and are looking for a talented writer to help craft a series of informative emails designed to spread awareness of common scams, how people can report them, and how they can protect themselves from these types of calls.
As a writer, you need expertise in consumer protection, so that you can clearly define the different types of scam out there and then make a call to action for users to follow in order to protect themselves.
Templatic is a growing company, delivering unique Application Themes in WordPress since 7+ years serving hundreds of thousands of customers worldwide.
They are looking for a content writer with Web Design and WordPress experience to plan and create high-quality sales page content and tutorials around their products on their blog.
Bad Ass Work Gear, a man's brand that sells tough gear for tough men, is looking for a writer / blogger who can speak to their audience – smart, entertaining and has been punched in the face a time or two.
Fluxe Digital is looking for a seasoned blogger to write high-quality educational blog posts on topics like marketing analytics, lead growth, revenue reporting, and email marketing. The target audience for these topics is experienced info marketers and it's a huge bonus if you have experience working with Infusionsoft.
A leading real time global markets financial news publisher is seeking energetic and experienced financial journalists right away!
This is a telecommute position for EXPERIENCED FINANCIAL NEWS EDITORS & JOURNALISTS who have covered the financial markets. There are currently several openings for this telecommute (part or full-time) freelance writing and editing positions.
Author: Noemi Tasarra-Twigg
Editor of Splashpress Media, writer, and geek bitten by the travel bug.