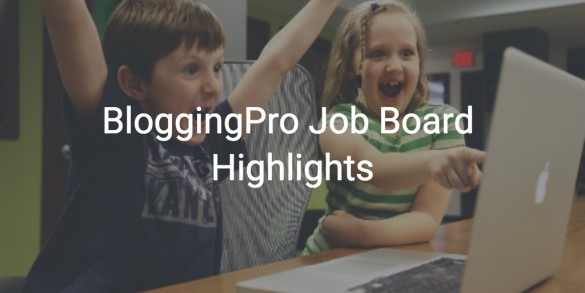 How did the holiday period go? (Well, at least the first half…)
I suppose you're back to work today and for the next couple of days – we're in the same boat, so here are some of the best blogging jobs for our Job Board. Good luck!
The best blogging jobs this week
Various positions are offered for enthusiastic and creative writers or bloggers to create fashion, style and lifestyle content, focused around minimalism philosophies. The articles are to be well researched, informative and entertaining. The role will also involve conducting a broad range of research tasks, including gathering image assets for publication.
The Cheat Sheet is looking for a Gaming Freelance Writer to cover topics such as video games, mobile apps, gaming apps and trending topics within the Gaming Industry for their monthly audience of more than 14 million unique visitors.
Format Magazine (http://format.com/magazine) is an arts and culture online publication. They explore the creative mind with in-depth features, dialogues, artist profiles and news updates. Format Mag connects creative communities, inspires readers and offers industry-relevant career resources. They're accepting pitches for high profile interviews, artist spotlights, dialogue topics and timely news posts.
Love sports? We're looking for you!
The Cheat Sheet is the ultimate, high-quality set of time-saving cheats/guides to everything modern men want, need, and ought to know, do or buy so they can get the most out of life. They are looking for Freelance Sports Writers to cover MBA, NFL and other sports for their monthly audience of more than 14 million unique readers.
Author: Noemi Tasarra-Twigg
Editor of Splashpress Media, writer, and geek bitten by the travel bug.