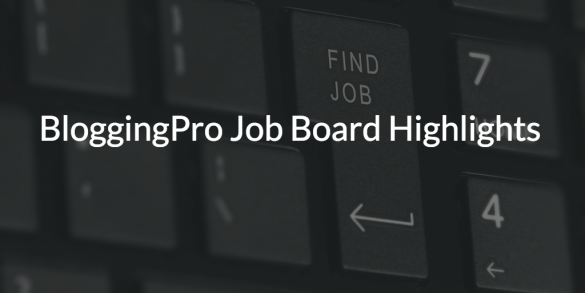 How are you on this first official work day of the year? If you're still hungover from the holidays, let us help you kickstart 2016 with some of the best blogging jobs from our Job Board.
Happy hunting, and good luck!
The best blogging jobs this week
If you're a Los Angeles or Vancouver BC-based writer who is passionate about running and running shoes, Solewear would love to hear from you. They're looking for writers who can wear-test running shoes, and then present the findings in a tone of voice which is authoritative, yet with a fun and jargon-free approach to writing.
This is an off-site, contract/freelance position.
Divine Derriere is looking for a dedicated blogger for monthly postings (or bi-weekly depends on budget). They offer skincare products, focusing on skin lightening treatments.
Recently redesigned their website and plan to launch new products in the next 1-2 months.
Milestone is looking for two to three 1000+ word blog posts per week related to:
Business accounting
Business financial planning
Inventory control
Warehouse management
and more business management related topics.
Zicasso is looking for travel writers with experience in areas from all over the world. Writers need real travel experience and will rewrite outdated travel content to make it unique, engaging, interesting, and compelling, based on first-hand experience of the destinations. In addition to the rewrites, there may be additional opportunities to contribute in the long-haul.
Author: Noemi Tasarra-Twigg
Editor of Splashpress Media, writer, and geek bitten by the travel bug.