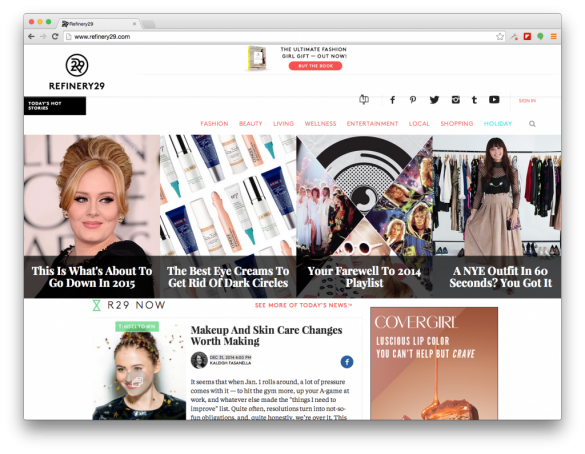 Bloggers are now more aware than ever that the layout and design of their blogs matter just as much as the quality of the content. This also means that blog headers are getting more attention than they have in the past. However, some bloggers are still lagging behind and using old, outdated headers that need to be replaced.
Your header says a lot about your blog. If it's basic and bland, then readers will assume your blog is boring as well. However, if your header is captivating and unique, users are more likely to stick around and find out more.
"Whether it's online or offline, every visible component of your business communicates something about your brand," says Will Godfrey of The Godfrey Group, a leading provider of turnkey trade show displays. "Ignoring any individual aspect can compromise your entire brand image." This includes your blog's header.
With so much depending on your blog's header, how can you ensure you're designing one that's compelling and aesthetically pleasing? Well, you should focus on the three primary components: color, font, and placement.
Selecting the Right Color Scheme
The first thing to consider is the color scheme. Your header will work in tandem with your blog's overall design to produce a cohesive and attractive appearance that engages users and makes them feel welcome. In most cases, bloggers start by designing their header and then mold the rest of the blog around that scheme.
Honing in on the correct and appropriate color scheme for your header may not be as easy as simply choosing your two or three favorite colors and moving on. Since this is such a vital component of your blog, you may find it valuable to brush up on color theory 101. This guide is packed with a ton of valuable information that can help point you in the right direction.
Choosing the Best Font
The next thing you have to consider is the font. Once again, there's a whole science behind choosing fonts – known as typography – and you can spend a lot of time studying this aspect of your header. If that's something you want to do, then more power to you. However, if you want to learn just enough to design a good heading, then there are only a couple pieces of information you'll need to understand.
First, you want to be unorthodox. While your favorite word processor may give you dozens of fonts, these are all way overused. If you use a standard font, people will know exactly where you got it. Your blog needs a unique font to stand out.
Second, consider the readability. As designer Max Luzuriaga points out, "Be it tiny font sizes, crammed line-height, or just plain ugly fonts, it seems that a lot of sites out there are determined to not let you enjoy their content!" The same is true with your header. If it isn't easy on the eyes, you're doing your blog a disservice.
Thinking About Placement
Finally, think about the placement of your header. Where you place it in the blog's layout, and how you position it compared to the rest of the elements, conveys certain feelings and emotions. For example, a congruently placed header in the top left of the page tells readers that you're classic and traditional. However, a header that's placed at an angle says your blog is a little edgy and alternative.
Carefully Consider All Options
When it comes to designing your blog, you must think about the audience over yourself. While it is your blog, you aren't designing for your own pleasure and satisfaction. The purpose of the blog is to connect with readers and delight them through the content and visuals you present. Before publishing your new header, ask for opinions and consider all of your options. Ultimately, the header needs to excite and engage your readers.