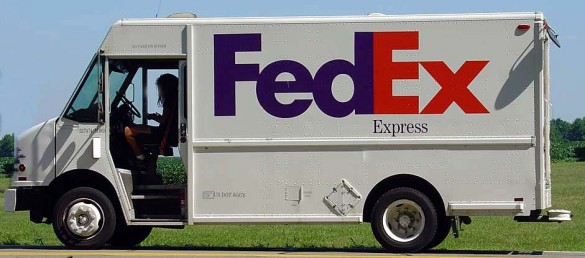 If you're a FedEx driver, peak season arrives with the holidays and seems to stretch on as an interminable chain of packages to be delivered, regardless of weather, threatening dogs, or other barriers. And while blogging may not typically expose you to the elements or any pets besides your own, there are more similarities between a FedEx delivery job and a blogging gig than you might think.
Peak season for blogging depends on your topic, but big news can roll in at any time, so it's important to be ready. Here are 4 ways to make the most of your content delivery with insights from FedEx peak season.
Be On Time
Whether you're delivering holiday packages or reporting on the latest stock trends, it's important that your content be on time. Imagine the disappointment when a Christmas present doesn't arrive in time to be put under the tree – when your content suffers the same delays, readers lose interest, become frustrated, and no longer trust your blog.
If FedEx can deliver millions of packages in the month headed into Christmas, you can get your blog posts up on time so that they remain relevant. No one wants outdated content.
Have A Plan
When FedEx drivers head out to deliver packages during peak season, they have a clear system. Drawing on GPS, maps, and online updates about closed roads, the drivers chart a course that allows them to efficiently complete deliveries on time. A road map is a must have for bloggers as well. Lay out a plan for how you want to deliver content and stick to it.
A great content plan will mark major content topics, peak output days, a social media strategy, and analytic benchmarks for measuring reach. Deviating from the plan can cause delays, underperformance, and other blogging shortfalls. The best business ventures are always those with a plan.
Repeat Repeat Repeat
FedEx doesn't reimagine itself anew each month or year – it does the same thing and it does it well. And while you can't post the very same blog day after day in the way that FedEx delivery people knock on doors and drop off packages day after day, you can reuse things that work. Recycle your content with a timely spin – you'll be surprised how much coverage you can produce out of a single white paper or press release.
Be Who You Are
FedEx is a decidedly no frills kind of business – no dressing up for the holidays here. No, FedEx delivers with an authoritative business model and that's how you should run your blog as well. Be clear, know where you stand, and provide professional content for a targeted audience.
Whatever your peak season, these four FedEx lessons will help you produce high quality content efficiently while reaching the broadest audience. Just be grateful you don't have to deliver that content in snow, sleet, and other adverse conditions. Compared to that, you should be able to handle even the most hectic news cycle with ease.