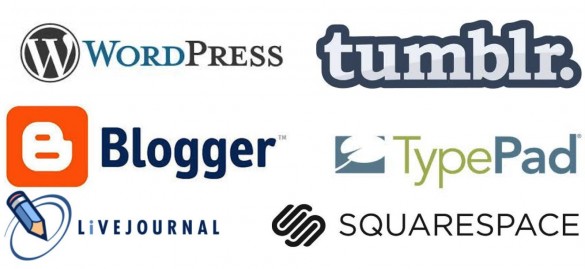 While big businesses typically spend lots of time and money developing logos, you'll rarely find a blogger who dedicates enough energy to logo design. This is unfortunate, as the right logo conveys value and allows you to connect with your readers. If you've never designed a logo for your blog – or don't like the one you're currently working with – then use the tips in this article to get started.
The Need for a Quality Logo
As a blogger, you should look at your blog as an organization or company. While you may not have employees, or even a traditional office, you need to treat your blog like a big brand. One aspect of treating your blog like an organization means designing a compelling logo, which is the visual representation of every company.
Your logo says a lot about your blog. It sets expectations, guides emotional responses, and tells readers what they can expect to find in your articles and posts. Whether you realize it or not, your logo is a direct reflection of your blog's quality and value.
5 Tips for Designing Stellar Logos
While you may understand the importance of having a unique logo for your blog, most bloggers struggle with how to design one. Well, when working with your designer, keep the following tips in mind and don't be afraid of providing input each step of the way.
Choose the right colors. The first thing to think about is color scheme. While some people put this off until the end, color should serve as the foundation for each layer of your logo. For example, red is energetic and bold, while blue is tranquil and trustworthy. Orange is creative and youthful, whereas white is simple and clean. Spend time considering which colors best represent your blog's message.
Think about fonts. The font you use in the logo says a lot about your blog. Is it youthful or professional? Are the letters large or small? Can you find the font in Microsoft Word, or is it totally unique? Work with your designer to find or create a font that's indicative of your blog's idealogy.
Understand the meaning of shapes. Shapes sometimes speak louder than words. For example, circles represent community and unity, squares correlate to balance and security, and triangles are related to strength and power. While these may not be conscious associations, they're definitely present.
Leverage white space. One of the keys to designing a successful logo is learning to say more with less. This means leveraging white space and making the most out of the surface area you're given. One great example of maximizing white space can be found in the FedEx logo, which forms an arrow between the "E" and "X." It's hidden messages like these that allow a logo to stand apart.
Keep icons in mind. In today's day and age, you can't just design one simple logo and walk away. If you truly want to grow your blog into a brand, you have to consider the fact that your logo may eventually be transformed into a mobile app icon. By keeping this in mind on the front end, you can ensure that the shift from standard logo to icon is simple. In fact, you may want to go ahead and have your designer create a simple icon at the same time. This can save you time and money.
Ready, Set, Design
Designing a logo for your blog shouldn't be a stressor. In fact, creating a logo should be exciting and invigorating. It's an opportunity for you to encapsulate what your blog stands for in a concise, compelling visual that will connect with readers and convey certain values and emotions. With that being said, it's time to get started!