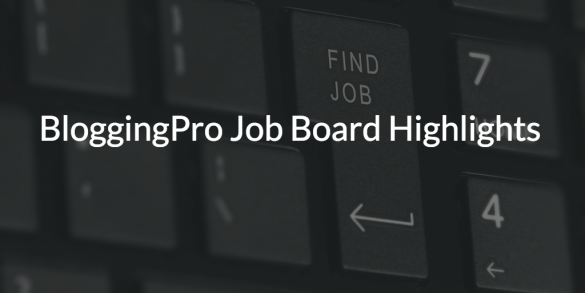 Good Monday morning, BloggingPro job hunters! I hope everyone had a good weekend and that you're all ready to grab some fresh jobs today.
Enjoy the first day of the week!
The best blogging jobs this week
#BASIC strives for edgy, mind cutting, opinionated writing. They want to hear your voice and share it with the world.
They are currently assigning articles for their Spring/Summer issue and are seeking writers who work well under quick turn around times.
Your next opportunity awaits:
Write insightful feature stories about brick-and-mortar retail and e-commerce.
Identify and articulate the significance of news developments and market trends.
Take a good story idea and come back with a compelling narrative for an executive audience. Experience and expertise in writing about the business of retail is strongly preferred.
Essence Of Arcadia is looking for someone to write content for their new site which sells essential oil products. The writer would need to be experienced with aromatherapy and essential oils as well as able to write interesting and factual articles.
They want to write about things like uses, recipes for oils, general guides and information on oils and using aromatherapy diffusers.
Natural Health & Spirituality Website is searching for a talented Ghostwriter to help them keep up with the needs of their increasingly growing community. They are looking for someone to author regular content (about 2 articles/ posts a month of 700-1000 words each) based on curation and editorial guidelines and direction from their content team.
Pebblebee is in search of a freelance copywriter to write for their blog, which has yet to go live. The subject of this blog will be focused on being a complementary solution to the service their product provides, examples being, how to not lose your keys, life hacks for your home, how to stay safe when you are alone, etc. Other topics will be sprinkled like customer success stories and anything else they determine their customers would be interested in hearing. You will be writing ~3 articles per week.
Author: Noemi Tasarra-Twigg
Editor of Splashpress Media, writer, and geek bitten by the travel bug.