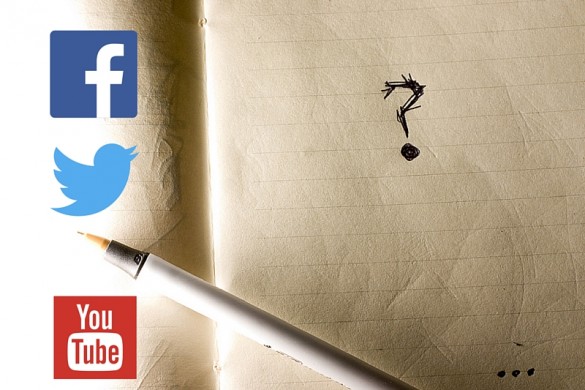 I am a writer. I don't know how to promote anything. All I know how to do is write. How am I ever going to gather a following for this great blog I have created?
Many bloggers have these exact fears when they begin blogging. They usually get over these fears pretty quickly or they do not last long as a blogger. Most find out pretty quickly that if you want to attract new followers to your blog you have to meet them where they are. These days that place is on social media.
Social media provides the opportunity to reach many readers on the platform they prefer. Regardless of whether your blog is for a business or you are a full time blogger in some niche industry; the purpose of starting a social media account should be to share your content and to get your content to spread like wildfire. It offers you the opportunity to develop your brand, generate interest in that brand and then drive traffic to your website.
The first thing you need to determine is which site you are going to create an account on.
Most people already have a Facebook Account so they tend to start with an account their for their blog. This is good because Facebook is also the site with the most active users. This does not necessarily mean you have to start with or even use Facebook, but it is the most common place people promote a blog. Here are some positives and negatives of the most often used Social Media Sites for Bloggers.
"In this day and age, bloggers really can't get ahead unless they're active on social media."

 
Facebook
This is the most popular social media site in the world clocking in at over 1.5 billion monthly active users. It is a good idea to be here simply because it is where the largest amount of potential readers of your blog are. Any industry or niche can benefit from being on Facebook.
Twitter
Twitter is a place where you can use a picture or a short quote from your blog to catch the attention of potential readers. It has the ability to use hashtags so you can relate your post to a certain niche like #marketing #insurance #photography #quoteoftheday This can help you get your posts in front of a wider audience of non-followers. Also with twitter you can mention other people easily by using @ and their twitter handle. This is helpful to associate yourself with someone who has a much larger following than yours. Especially if they in turn share it with their followers.
Google+
One of the greatest attributes to Google+ is that there are circles and communities that you can create of become a part of. Circles are a way to categorize groups of your connections. On a personal Google+ account someone my create a circle for family members, high school friends, college friends, etc These circles allow you to easily share an update with some or all of your followers and not all of them. If you have a blog post specifically for one group, but might not be interesting to all of your followers than you could use this function. Communities are something you should be a part of in order to interact with people of similar interests. It segments users to help you find more people that are likely to be interested in your niche.
LinkedIn
One of the best ways to use LinkedIn to promote your blog is to establish yourself as the expert in your niche. You can comment and answer questions on other peoples posts. If there is someone with a large following in your niche you can go to their posts and chime in. Make sure to keep it relevant and professional. Nothing spammy.
YouTube
A YouTube channel is a way to take your blog posts and turn them in to video. If you are not very good with video do not worry. These videos do not have to be very long. Many times you can simply write down a few questions related to your blog topic. Talk about them in to a camera and post a portion of your response on YouTube. This can than be shared on your other social media sites to enhance the reach of your blog post.
The insurance industry is one industry that surprisingly has used YouTube successfully to promote their business. As you may know, policies in the insurance industry are fairly complex.
Instagram
Instagram is an app or phone feature that is installed onto a mobile device. It allows you to instantly upload photos onto other social media sites through a smartphone or other mobile device. Once you take the photo it allows you to rotate your the photo or add a caption. Than it gives you the option to share the photo on Facebook Twitter and a number of other social media platforms. Instagram provides your account with a photo feed. This is where you can follow other people and others can follow you or view the photos you share.
Pinterest
Pinterest is a social media site atha allows you to visually share (Pin) their interests and discover interests of others through what they have pinned. It is very focused on a person lifestyle. You have the ability to add the pin option to your Blog so that when people read your blog they have the opportunity to pin it to their profile. This is one way to get your content spread rather quickly.
Flikr
Flikr is a place for photographers to store and share their pictures. It is a great place to let clients look at your portfolio and to share your work on your other sites. Flikr can also be beneficial even if your site is not heavily photography focused. Visuals are important in the digital world. Flikr can be a place for you to store pictures of yourself as well as the people and places you write about. That can go for whether you are blogging about Travel or using a blog for your accounting business. pictures amplify whatever you are writing about and give the reader another reason to stay at your Flikr site or visit your blog.
Posting Frequency
Once you as a blogger have chosen which sites you are going to use, how frequently you plan to post should be the next thing you determine. The frequency can be different for every site and every industry. An industry like insurance or accounting might only need a post once a week. A restaurant may need to post daily or even more often in an attempt to constantly remind their followers what is going on and why they should come to their business. Your posts typically are seen by less than ten percent of your followers. So you really should not worry about posting too frequently. You may want to start slow, but eventually you want to post to social media every time you have a new post to your blog and other relevant posts in between. It really just depends on how active your blog is and what results you expect to get out of your social media presence. For some social media sites it is okay to post very frequently. Twitter is a good example of this. Other sites you want to have a well thought out professional look to your posts and they should not be as frequent. LinkedIn would be one example of this. No matter what you determine is best for you, keep it fairly consistent.
"In Social Media the "squeaky wheel" gets the oil. You have to put yourself out there, to find people who will relate or even debate with you, depending on what you are looking for."
Spread the word
Next you must determine how you are going to let people know about your account. Many people start promoting their blog first through their own personal social media account. Typically you already have some type of relationship with the people you have connected with personally. Some will have similar interests to you and your blog. This a good way to get some initial following and it is good to continue to share your post sporadically on your personal site. Long term you will need to create an account specifically for your blog. If you do not create your own blog account, eventually your posts will become annoying to your followers. It might cause some to change their privacy settings so they do not see your posts or worse they may simply unfollow you altogether. Nobody wants to see overly self promotional posts when they have not followed your blog. So while promoting your blog on your own personal site is appropriate some of the time, it is best to create separate accounts for your individual blog.
When you open your blogs on social media site it is a good idea to invite many of your personal connections to follow your blogs new social media site. Even if 1 in 10 people take you up on your invitation this can be a good starting point. It is also worth your while to consider budgeting some money for a promotional campaign. Facebook and Twitter allow you to do this through their site. There are other sites that can help you promote some or all of your social media sites fairly easily. A typical Facebook Ads Campaign does not have to be very expensive. Some can be effective for as little as $50 to $100 depending upon how many users you want to acquire. Expect to spend $0.50 to $1.50 per follower on Facebook. Using this campaign will allow you to use Facebooks user data to place your ads on the pages of people with similar interests to you and your blog. That can put you in front of people who are much more likely to be interested in your blog. Maybe even more so than your friends and family.
On top of promoting your new social media page the best thing you can do is to have a presence on numerous sites. Not just one site. Depending on the topic of your blog and the nature of your readers, you may choose one site over another. No matter what, you have to be where your readers are. Some readers are on Facebook, other readers are on Twitter. Younger people typically use Snapchat more often. Women tend to use Pinterest more than men. If you are only on one site you are limiting your possible reach.
Even though you need to be on several sites, it does not mean you should abandon one site if it is working well for you. Many bloggers use what some call the spray and pray method. What spray and pray means is that you simply post to many different accounts. Then you sit back and wait to see what happens. If you don't engage your audience, there is no point being on social media. Most people who do well on social media have accounts on several platforms, but they tend to do much better on one or maybe two sites. Being effective on one or a few sites is more important because those followers are engaging your content. This is the value you are looking to get out of social media. Remember the purpose of creating a social media account for your blog, is to get people to go to and read your blog. If you are doing that effectively through your Facebook account than stick with it. At the same time don't limit yourself to only one site.
Remember the purpose of opening a social media account is to gather a following and to get that following to read your blog. There are many sites that can be effective for your blog. The most important aspect of promoting your blog should be to find where your readers are and how they want to be approached. Once you find this out go there and show them what your blog has to offer.
Photo credit: Eleaf via VisualHunt.com / CC BY