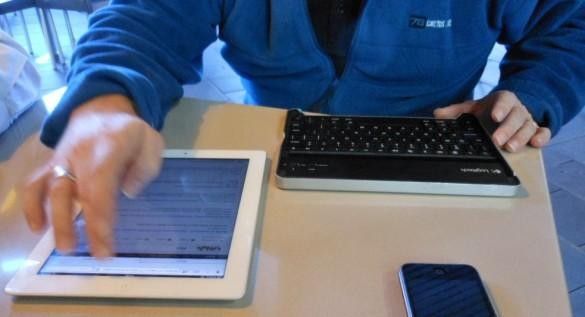 As you very well know, having your own blog provides its own challenges. You don't get enough traffic. You don't have enough ideas for content. You just can't seem to find a rhythm to write and publish consistently. And the list goes on and on.
Now what if, aside from maintaining your own blog, you work for a blog network and have to manage a team?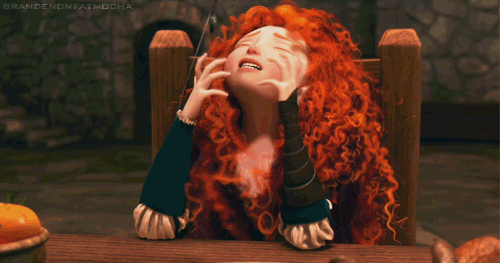 You've probably done this once or twice. Okay, maybe more than that.
Luckily, there are solutions to the problems that come with running a blog network, and Wrike is one of them.
Wrike is an online project management software and team collaboration tool designed to help teams work together to get more done. Wrike's project management tools make communication, planning, tracking progress, and measuring results easier, so you can streamline processes and make your team collaboration more productive. This results in – you guessed it – fewer headaches for everyone involved.
Wrike helps streamline your processes in many ways.
Leading a team of bloggers spread all over the world presents countless hurdles, including:
Time zone differences
Creating editorial calendars AND sticking to them
Planning and initiating new projects, and then executing (say, writing eBooks to sell)
Making sure each blog is organized and maintained properly
Working with designers and developers, and possibly serving as a liaison between them and lead bloggers
All of these obstacles can be overcome by having a common project management software that ensures everyone is kept in the loop, has access to the information they need, and can easily see what everyone else is doing. Bonus: you won't have to keep repeating yourself in individual emails and chats, since everyone knows what the top priorities are.
Let's look at a few specific ways you can use Wrike to make your life easier.
Managing blogs & bloggers
In Wrike, project management is easy. Create folders for projects and share them with the blogger(s) concerned. In the example below, instead of emailing back and forth with BloggingPro bloggers, sending attachments and searching for files, I can simply create a project called "BloggingPro," add and assign tasks, set due dates, and collaborate with my team in one place. If necessary, files can be attached directly to the related task for easy access.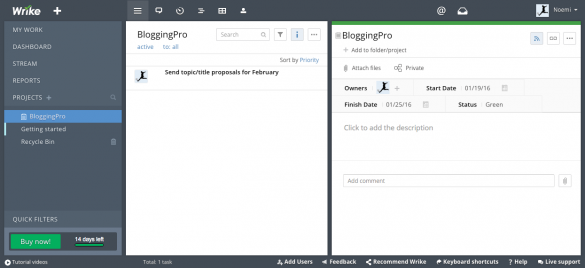 Additionally, everyone with whom the project/task is shared can give their feedback, leave comments, and edit task descriptions. Every keystroke is recorded in Wrike, so you can see who made which changes and revert to a previous version if you wish.
I'm sure you'll agree with me that a major issue is sticking to deadlines. With the Gantt Chart Timeline feature, it's easy to monitor deadlines and milestones across all your different projects. Instead of having lists of deadlines for different projects all over the place, you can monitor all your different blogs in one platform.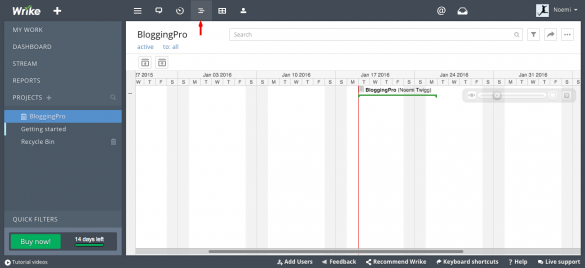 Wrike also allows you to create custom Dashboards to keep all your high-priority projects and tasks front and center. You can choose to share Dashboards with your team, so you all stay aligned on important deadlines.
One feature I particularly like is the Workload view. The last thing you want as a team leader is a team of stressed-out bloggers overwhelmed with tasks that they just won't be able to deliver. With this feature, only takes one look to assess whether you need to re-distribute tasks or adjust your deadlines.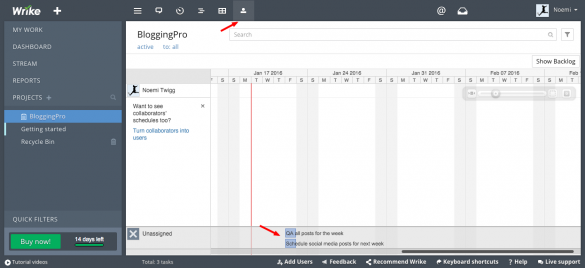 Wrike Integrations
As efficient as all the features I've mentioned are, there are other factors to consider. We all use an arsenal of apps and web tools to facilitate our work. There's no way we can just ditch email altogether, for instance.
One of the best aspects of Wrike is its many integrations. The email integration let you turn an email message into an actionable Wrike task with one click, without ever leaving your Inbox. Plus you can receive updates and leave comments on your Wrike projects and tasks straight from Gmail, Apple Mail, or Outlook. Wrike also integrates with iCal, Evernote, WordPress, Zapier, and more – most of which we bloggers use regularly.
Our team uses Google Drive a lot, and most of us check in on work using our phones and/or tablets. That's why I love the Google Apps integration. We can collaborate on our Google Drive documents, attached right to our Wrike tasks, and the changes are automatically saved and reflected for everyone. As for mobile, there's a Wrike app for that. Two apps, actually: one for iOS and one for Android.
Make your whole team happy
Managing a blog network isn't all about making your job easier. It's all about making everyone happy, which results in excellent work.
Streamlined processes = happy bloggers = well-written, on-time posts = less-stress for you!
Take a look at Wrike software for project management and start a free two-week trial to see how it can help streamline your processes and save you and your team some major headaches. And if you want to improve your team productivity and leadership skills (which you should), check out their blog.