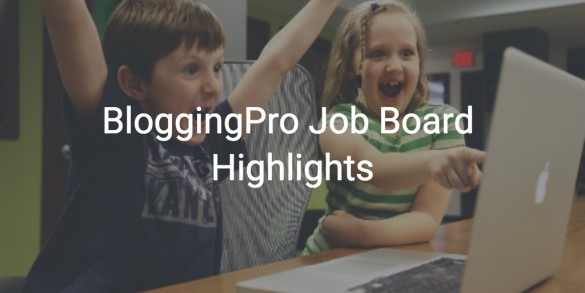 Happy Chinese New Year!
May the Year of the Monkey be in your favor, and may you get all the writing jobs you need – and even more.
The best blogging jobs this week
Expertise.com is a Seattle-based startup that is changing the way people connect with local experts. They are building a product that helps people find the best professionals in their area, from lawyers to home contractors to tutors. They are looking for a remote freelance copywriter.
Seeking knowledgeable, experienced business writers to assist with ghostblogging work in various topics.
HomeGlu's primary goal is to deliver quality content for homeowners that are interested in home improvement, remodeling ideas, construction tips and home design inspiration. If you have valuable tips, advice, ideas, inspiration or techniques to share, then you're more than welcome to write for them and help provide readers with solid articles and useful insights. They aim for exciting, engaging, creative articles that also cover recent developments within the home design industry. Writing does take time, but substance is more important than length.
Lease Advisors is the nation's premier lease acquisition and consultancy firm, providing financial services to landowners whose property is host to a cellular or billboard installation. They are looking for a freelance writer to work under the direction of the senior communications staff to create relevant, engaging blog content.
Bootprints is a network of email newsletters about outdoor sports and adventure. They need a local adventure expert to write for the Denver + Front Range Edition. The selected applicant will provide five 350-400 word email newsletters each month (with photos) about hiking trails, festivals, and other weekend outdoor adventures in Colorado.
Author: Noemi Tasarra-Twigg
Editor of Splashpress Media, writer, and geek bitten by the travel bug.