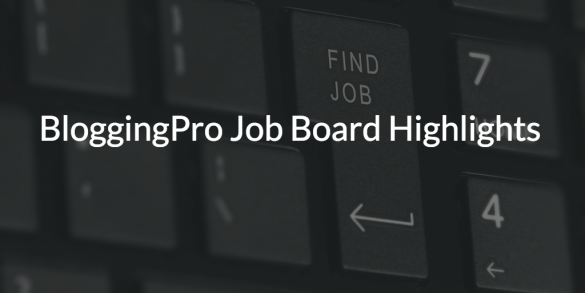 Good morning, BloggingPro job hunters! I hope you had a great time over the weekend and was able to spend quality time with your loved ones.
Since it's Monday, it's time for some paid blogging jobs once again, so here you go.
The best paid blogging jobs this week
Kriteria Marketing is seeking a professional blogger with B2B and technology experience to write articles for blogs about B2B technology. This isn't hard-to-understand tech – more like B2C tone for a business audience.
You must know technology and be able to communicate how it's used by different industries, such as healthcare, legal and manufacturing.
A B2B corporate client is looking for a Content Writer. This is an offsite contract opportunity starting in March 2016.
The client wants to establish a social media presence for one of the top executives. This thought leadership campaign will be mainly driven by social media which will include by not limited to LinkedIn blog posts and Twitter.
Most of the one million lawyers in the United States work in small law firms. SmallLaw publication serves those who manage these law firms.
As a freelance reporter for SmallLaw, you will cover legal software, business trends, and management and marketing best practices for these busy lawyers and their teams. Along the way, you'll develop relationships with CEOs of software companies, legal industry luminaries, and of course, many lawyers.
Gadget Review was founded in 2005 on a simple premise — to sort through the clutter of tech life and help you make informed buying decisions.
Gadget Review is seeking contributors to write:Television Reviews
Television Reviews
Home Security Reviews
Home Appliance Reviews
Author: Noemi Tasarra-Twigg
Editor of Splashpress Media, writer, and geek bitten by the travel bug.