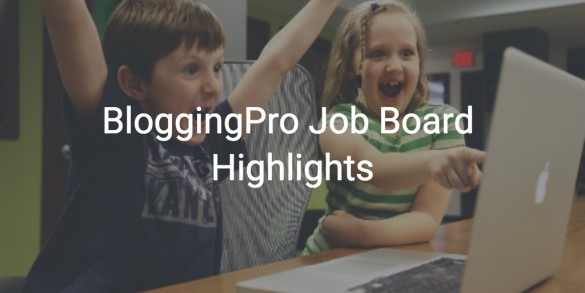 Good Monday morning to all of you!
Who's ready for the last full week of February? Let's kick it off nicely with the best paid blogging jobs from our Job Board.
Good luck!
The best paid blogging jobs this week
If you're an experienced writer who knows everything there is to know about Taylor Swift, has a countdown until the next Divergent film hits theaters and won't be able to sleep until Zayn Malik's album drops, here's the perfect role for you! Teen.com is looking for freelance writers to work from home and write content pertaining to young pop culture (celebrities, movies, TV, music, etc.).
Are you a firearm-savvy writer who thinks like a marketer? Here's a chance to freelance while helping spread powerful ideas about freedom in America!
Ammo.com is hiring a talented researcher + copywriter.
Social Media Marketing guide is looking for someone who is:
A) An excellent writer, and;
b) Has SMM experience and understanding
They would like 10x high quality, actionable articles that will be based around SMM growth hacks, and will require you to include screenshots. After this 1-3 articles/month, ongoing.
StockPhotoSecrets.com is a popular stock photo industry blog with news, reviews and comparisons of stock agencies and stock photo offers. The goal of the website is to provide a guide for customers to find the right stock agency for their needs. They're looking to get a full- or half-time writer or for a fixed amount of hours. They're looking to produce 50+ articles per month (different lengths). All about the same topics (roughly stock photos and stock photo agencies).
Author: Noemi Tasarra-Twigg
Editor of Splashpress Media, writer, and geek bitten by the travel bug.