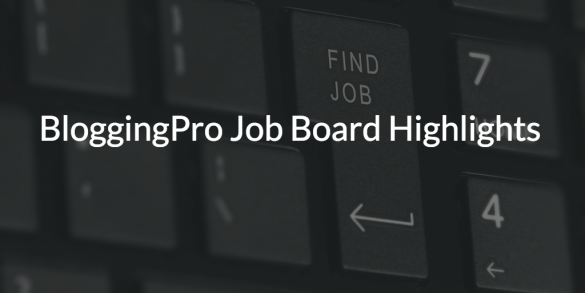 Good morning, everyone.
Take a look once again at the best blogging jobs from our Job Board.
May you get a new gig or two. Good luck!
The best paid blogging jobs this week
Looking for an experienced blogger in the tech/WordPress/business space to add to a writing team. Should have experience writing about all aspects of WordPress. Also, should be familiar with conducting research, citing sources, and working on deadline.
If hired, you will ghostwrite numerous blog posts about WordPress, business, and technology. A byline is offered for some of the work. You'd be expected to write at least two posts ranging between 1000-1500 words per week.
ECT News Network seeks an experienced freelance reporter to work on very tight deadlines, Monday through Friday, covering one to three breaking news stories per day for online technology publications:
• E-Commerce Times
• TechNewsWorld
• LinuxInsider
• CRM Buyer
Work whenever you want from wherever you want as a freelance financial writer with OneSpace! They are seeking financial experts (tax analysts, MUTF experts, real estate backgrounds, financial advisors, etc.) who are interested in a freelance writing opportunity, creating articles on a wide range of topics in the Finance field. They're looking for contributors who have strong writing skills and a background in Finance and/or Economics.
Bannerman is creating their inbound marketing program to help secure offices around the world and show how Bannerman makes it easy to keep the office safe around the clock. They're looking for a strong writer to turn knowledge from their former NCIS Detective and Director of Security into actionable and easy to consume tips for offices and individuals.
Are you the parent your friends turn to to find the hot spots with changing tables, the hippest kids clothes, the best restaurants that also have stroller parking? (And those that don't but are totally worth it!) Are you a cool mom or dad on the go? Does your nose for deals only rival your appetite for the best cultural experiences?
You already love to share your unique experiences with friends. Now help other families enjoy your city equipped with the know-how of a savvy parent like yourself.
Author: Noemi Tasarra-Twigg
Editor of Splashpress Media, writer, and geek bitten by the travel bug.