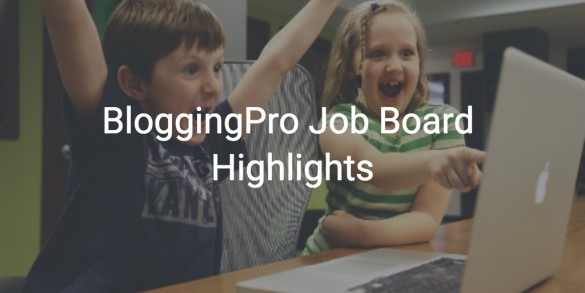 Good morning, job hunters!
How does your day look? I hope you've got just enough on your plate to bring in a nice sum this month without stressing you out.
If you need more jobs, here are the best blogging jobs to check out.
The best blogging jobs this week
Do you have considerable experience writing blog posts, on your own blog and/or others'?
Are you a reliable and conscientious freelancer who is willing to adapt to the stylistic needs of your clients?
If you're nodding your head in agreement with all of the above, you could be a perfect addition to the WordCandy writing team. We'll pay you $0.06 per word, increasing up to $0.10 per word based upon performance, to create WordPress-related topic ideas and craft them into high-quality blog posts for our clients.
Cashflow Podcasting's mission is to allow podcasters to focus on creating great content.
They're looking to hire folks that can work from home, on their own schedule, and as part of a supportive team environment.
You'll be helping podcasters by producing their audio episodes and writing fantastic show notes posts to accompany them.
United Press International is seeking an experienced web writer to cover the defense industry, foreign and domestic, including R&D, acquisitions, procurements, sales and transfers. The job calls for self-motivation, quick thinking, fast writing and production, good web research skills, as well as dedication to factual accuracy, a sharp eye for nuance and solid news judgement.
Fitt is a city-by-city guide to discovering health and fitness.
As a contributor to Fitt, you'll create shareable and informative content about your local health and fitness scene, including unique gyms, chic studios, races, workouts, and healthy eats around town.
Author: Noemi Tasarra-Twigg
Editor of Splashpress Media, writer, and geek bitten by the travel bug.