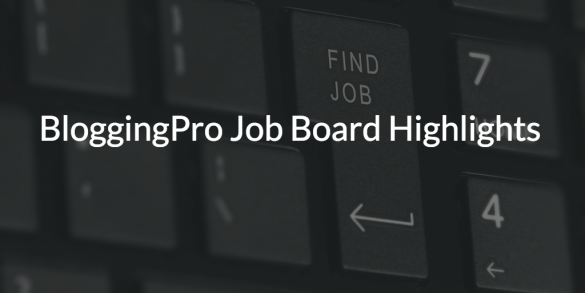 It's the start of a new week once again. How are you planning to be highly productive in the next five days? Or are you just going to wing it?
Whichever direction you decide to go, I hope you get some new gigs today.
Here are the recent highlights from the BloggingPro Job Board. Luck!
The best blogging jobs this week
A publisher is looking for writers & bloggers that are authors on news & general topic related sites and can write and publish political topics on these sites. They would prefer writers who can cover content related to politics and the economy in the Asia Pacific region but can accept writers that cover other regions too.
Is your love of reading romance eclipsed only by your love of writing about romance? Barnes & Noble's established book blog is expanding its romance coverage, and they're looking for talented, passionate writers and romance lovers to write funny, engaging, voicey, and tightly-crafted roundups, reviews, and other coverage of all romance subgenres, from paranormal to historical to erotica. Candidates should be adept at turning in clean, clever copy, on or before deadline.
Wonder (askwonder.com) is a personal research assistant that saves people time by getting detailed answers and resources delivered to their inboxes by a trusted network of researchers.
They're looking for individuals with exceptional online research skills to join their community of independent paid researchers.
Made Symple is looking for a talented and professional freelance writer who can talk about topics ranging from business and stocks to health and wellness. To start, they will need 1 blog post per month at least 2,000 words. In addition, you would be helping refine some website content, write email scripts, and newsletters.
CountBOX (countbox.us) is looking for a writer who can talk about retail analytics, retail news, people counting, merchandising, people counting systems, wireless signal sensors, and facial recognition technology.
Author: Noemi Tasarra-Twigg
Editor of Splashpress Media, writer, and geek bitten by the travel bug.