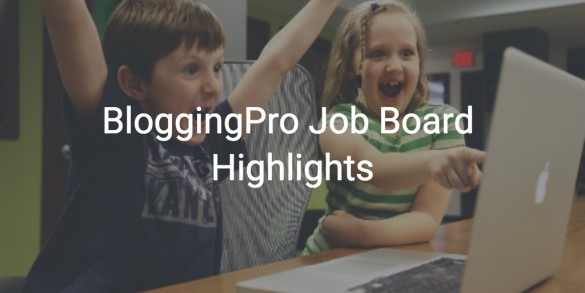 Good morning, BloggingPro readers. How was your Easter weekend? I hope you had a good time with your family and friends.
As we get ready to end the first quarter of the year, it's timely to sit back and analyze your progress in terms of your goals, isn't it? I hope you're right on track.
Let's start the week on a positive note once again with the best blogging jobs from the Job Board.
The best blogging jobs this week
To write definitions for work style attributes. You must have psychological orientation, education, training or experience. You also must have complete and excellent command of the English language. For this project, you will turn psychological attributes into plain English for the lay public to understand. This is a project based assignment which can lead to ongoing projects.
A nonprofit foundation, the American Fundraising Foundation, is a federally-approved 501(c)(3) nonprofit organization. In a way, they're very much like the United Way. They are a fundraising foundation contributing millions of dollars each year to service-providing foundations.
The writer selected for this project will take two or three current books on Special Events, plus interview Mr. and Mrs. West personally for about an hour each to benefit from their two decades of experience, and then combine that information. The finished product would then be about 140 pages and privately published.
I run a successful stock analysis start-up, and am looking for contributors who wish to capitalize on their strong financial background and understanding of the stock market. I am looking for freelance writers who have a strong background in finance and the desire to research and analyze stocks for a living, or for fantastic supplemental income! If you are like me, obsessed with learning more about companies, investing strategies, or market trends in general, this is the perfect way to "get smarter" while earning some fantastic money on the side!
IdeaHacks just launched a digital magazine and is looking for an experienced content curator/listicle blogger who has a knack for finding the best content around the web. Period.
The website will curate the best of the best around the web and compile them into an extremely resourceful blog post, where readers can get the information in one single location.
The ability to write creative, interesting dialog (funny, sarcastic, dry, etc.) for a variety of characters is key. Dialog is for a diverse characters set in a role playing game that will be played by adult Professionals. Dialog needs to be creative and edgy, but not offensive. Basic script work has been done but now needs to be rewritten to give it spice/attitude. This is a short term project that should be approximately 100 hours over a few months, with the work more front loaded.
Author:
Noemi Tasarra-Twigg
Editor of Splashpress Media, writer, and geek bitten by the travel bug.