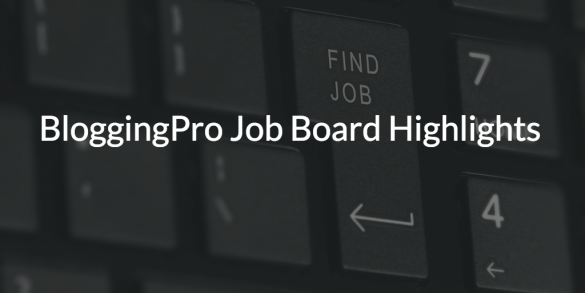 How does your day look? Do you have a lot of things to deal with to start the week, or is it one of those nice laidback starts?
I hope it's the latter, while not having to worry about revenue. Here are some of the best blogging jobs for you to look at for an even better start to the week.
The best blogging jobs this week
Canva is looking for offsite designer-slash-writers who can regularly contribute to their graphic design blog, Design School. Their objective is to create engaging, informative content empowering our growing readership to design and make the most out of Canva's awesome features and elements.
Booking.com needs an online copywriter. As an Online B2B copywriter in their Technology department, you ideate, design and deliver copy that informs and appeals to emotions ­– creating a unique bond with their customers and partners. You drive conversion, retention and loyalty through your own multi-variant experiments and use your linguistic expertise and knowledge of persuasion to help impact business goals.
ChatterBlast Media, a Philadelphia-based digital voice agency, is seeking a digital journalist/storyteller for an exciting editorial project in the heart of Denver, Colorado. They are looking for creative individuals with strong writing and community-building skills, previous experience in creating content for diverse communities, and a familiarity with the local culture of Colorado. Life-casters, documentarians, photographers, bloggers and writers are all encouraged to apply.
Gigster turns ideas into apps and websites. They're an on-demand Software as a Service platform. They're backed by Andreessen Horowitz, Greylock, Bloomberg and more (see Angel List).
You'll write posts for the Gigster blog. That means writing about tech, startups and IT. You'll also do client interviews. Their clients come from all sorts of backgrounds, walks of life and industries.
An online publisher is looking for a blogger with experience writing about the web, WordPress, social media, content marketing, and blogging/writing.
Author: Noemi Tasarra-Twigg
Editor of Splashpress Media, writer, and geek bitten by the travel bug.