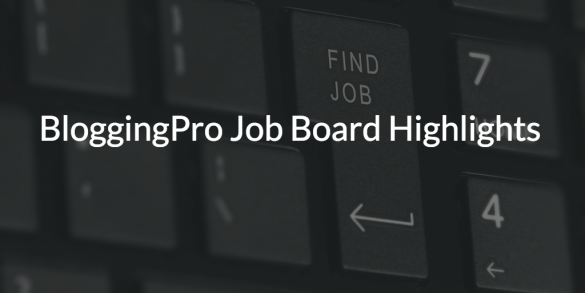 How are you feeling on this Monday morning? The sun's shining so brightly where I am – a little too much, actually, since it feels like my brain is getting fried, but other than that, it looks like it's going to be a great day. I hope you're having a good morning, too.
As usual, allow me to share the best paid blogging jobs from the Job Board. Happy hunting!
Paid blogging jobs
Wanted: an experienced IT/tech blogger or writer to ghost write some articles on various tech related topics. The areas of IT/tech that I would need content on would be varied and change often, mostly it would be the following areas though: Business software, Web development, Online media.
SmartBug Media, a leading inbound marketing agency dedicated to helping companies attain marketing goals and grow their businesses, is seeking experienced, dynamic freelance writers and journalists to provide high-quality blog and e-book content for their clients.
END/PAIN is looking to build a team of freelance writers like you to cover stories from every corner of the LA metro area. Hired writers will be paid a competitive rate for publishable content and will work closely with their local editor to follow leads, write stories, and cover local events that focus on living with pain and trauma and how to find healing through alternative means. Some examples of content include: engaging interviews, moving photo essays, gritty personal narratives, informed book/film/event reviews, and short features on kickass alternative practitioners, healing collectives, artists, and organizations in your neighborhood.
ScreenRant.com is looking for experienced writers.
You should be able to write 5 or more list features (1500+ words a piece) per month. These features will focus on movie/TV information and cover a wide variety of angles on the latest releases and premieres.
Mysteriousuniverse.org features daily posts in a fun tone on up-to-the-minute news and current off-beat items in the areas of science, space, futurology, technology, paranormal, conspiracy, weird politics and other strange news stories. They are looking to add new writers with interests in these areas, previous blogging experience, WordPress knowledge, strong research skills, an understanding of social media and a good sense of humor.
Author: Noemi Tasarra-Twigg
Editor of Splashpress Media, writer, and geek bitten by the travel bug.